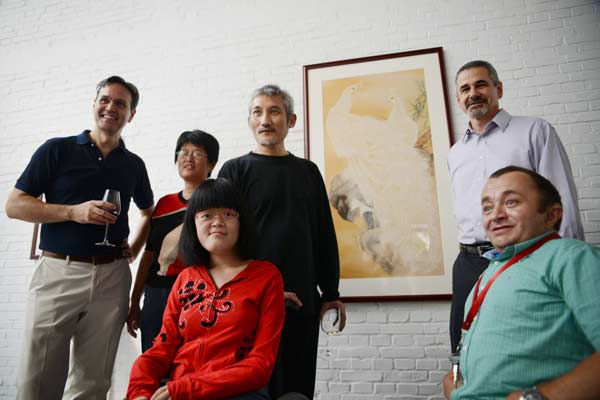 [Photo /China Daily]
Nobody pushes James around, and he was eager to make that possible for Chinese people, especially children. James and Stuart started Wheels Plus Wings, and began importing well-designed, lightweight, durable, child-driven wheelchairs "that even kids can drive", James says. But it's not just a matter of bestowing such independence on youngsters. He notes: "You have to convince the parents it will work, and then schools, and then employers.
"We can't help every child in China," says Stuart. "So we find children with a certain level of get-up-and-go, a certain level of can-do attitude in the way they think about their lives, and find ways to help them."
The group recently got wheelchairs for two young girls with spinal-cord injuries. "Both girls said they missed being able to dance," Stuart says. "So we invited a well-known ballerina from China to give them a dance class with their parents in attendance. That was lots of fun - not just for the children but for the parents to see their daughters laugh and play, something that I think hadn't happened for a year since the accidents."
A big part of the mission is education.
Stuart notes that he happens to need glasses to read. "That doesn't make me any less interested in reading, or any less good a student," he says. "So it's a question of perception. The chair should be irrelevant."
Stuart says China's public school sector has more infrastructure for such children than people realize.
"There are a number of schools in the Beijing area that are perfectly accessible," he says. "There are ramps, in some cases lifts, classroom doors are wide enough, there are disabled toilet facilities." But even in those schools, he says, there isn't a single disabled child attending.
In the past, one reason was that headmasters and teachers were judged on the basis of their students' success. "Many of the schools used that as an excuse - that having a disabled child was more difficult and would hurt their ratings.
"That rating system was changed about two years ago - but there is also an incorrect perception that society still needs to address: Just because a child is physically disabled doesn't mean they are mentally not competent. Nor does it mean they won't study."
"It's really the telling of that story that's important to us."
For more China Face, here