Lonely outpost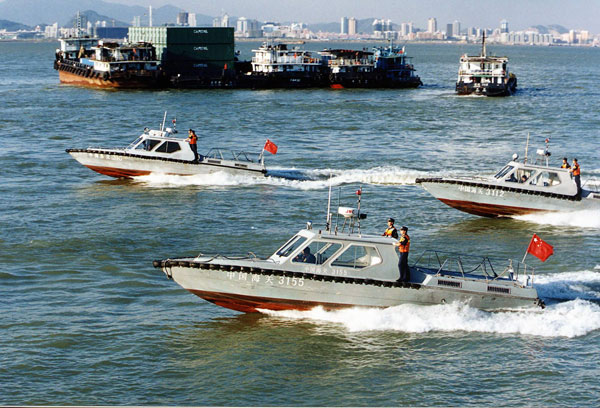 Dachan Customs' speedboats patrol on the sea. Photos provided to China Daily
On a small island just a few miles from Hong Kong, a Chinese customs team fights an important battle against smuggling. Li Wenfang reports on Dachan Island, Guangdong province.
Twenty-five-year-old Luo Jie, who studied at a US university and worked at a five-star hotel in Guangzhou, joined Guangzhou Customs in 2010 hoping to have a stable, respected and financially rewarding job. He did not expect to end up on an island inhabited only by staff of the customs bureau, an oil company and a power plant.

He was assigned to Dachan Customs and posted on 0.92-square-kilometer Dachan Island, off She-kou area in Shenzhen, Guangdong province. He soon found himself jumping from the customs speedboat onto cargo vessels swaying at anchorage for anti-smuggling checks.
It's not easy work. In March, he climbed into containers stuffed with scrap metals, where it was more than 40 C and stank horribly, to search for prohibited items - waste batteries this time.
The challenges have become part of Luo's daily life. "It's frustrating to be awakened at 2 or 3 am often to check vessels," he says. "I have been losing hair because of that."
An Internet connection was not available at his workplace until 2011. Even now, "Internet games are impossible because of the slow speed," Luo says.
Modern amenities came late to the island.
Tap water was not available for the customs station until 2008. Before that, fresh water was shipped by boat after the well water was found to contain a lot of heavy metals. Realgar, an indigenous arsenic sulfide mineral, is used to drive away snakes.
Grid power became accessible in 2010, before which the customs station used its own generators.
Food for the 182 staff members is mostly transported by boat to the island.
Some sections of the path around the customs buildings were destroyed and power supply cut off by the typhoon Usagi last month.
A critical post
Despite its sense of isolation, the island is only 6 nautical miles from Hong Kong, situated in the Lingding Sea off the mouth of the Pearl River. The location is so important for anti-smuggling efforts that a customs office was set up in 1899 by the Qing Dynasty (1644-1911) government.
Dachan Island stands on a brisk trading route, as Guangdong contributes more than a quarter of the Chinese mainland's foreign trade. That share was valued at $983.82 billion last year, though some of that trade is conducted through Hong Kong. Imports between Guangdong and Hong Kong surged 17.8 percent to $227.79 billion last year.
Customs is charged with preventing registered vessels under 3,000 deadweight tons from offloading cargo before they arrive at their destination ports.
Since Hong Kong is a free port, anti-smuggling work is especially important at Dachan Customs.
This midway supervision, affecting 110,000 vessels per year, accounts for 80 percent of midway supervision at sea by the mainland, and is connected to 66 checkpoints in Guangdong and the Guangxi Zhuang autonomous region, according to Guang Zhan, chief of the customs station.
Luo's supervision division is responsible for checking selected registered cargo vessels at the anchorage.
Vessel jumping can be more dangerous for the customs' anti-smuggling police officers. Crews of some moving cargo ships take drastic measures to avoid being boarded and checked.
"It's dark at night on the sea and we sometimes spot vessels with our ears," says Zhai Jin, an anti-smuggling police officer.
 For more China Face, here