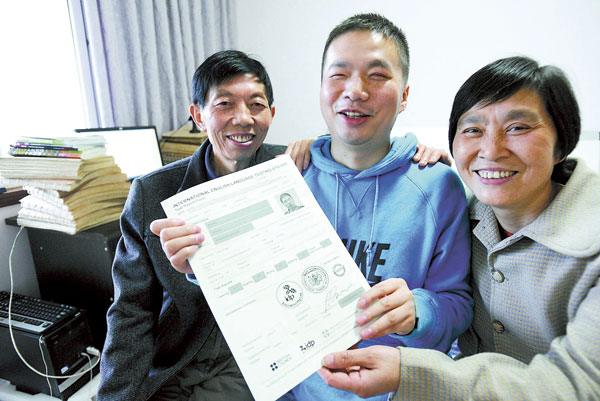 Zheng Jianwei and his parents show Zheng's IELTS result that successfully earned the young man the offer from the University of Essex in the UK. Photos Provided to China Daily
One determined student stepped off the traditional career path for blind people in China, and now savors a new life at university in Britain, Luo Wangshu and Ji Jin report.
Being a massage therapist is a perfect job for many people with a visual disability, but for Zheng Jianwei, it was far from enough.
The 30-year-old former massage therapist quit his hospital job in 2009 to prepare for admission to graduate school.
After about four years' endeavor, Zheng successfully gained an offer from the University of Essex in the United Kingdom and became a graduate student this month.
He took IELTS, the language-fluency test essential for university admission in the UK, in 2012 and scored 6.5 points, winning him offers from several universities in the UK, including Essex. He was the first vision-disabled examinee to take the IELTS in the Southwest Chinese region.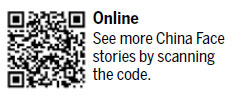 "I always want to learn more. Although people say that as a blind person, you should feel satisfied to have a decent and secure job and to be able to feed yourself. But I don't want to give in so easily. Something deep in my heart is still burning and yelling, saying 'Pursue your dream!'," Zheng says.
However, Zheng's path to graduate school was not easy.
"I can't take China's national entrance exam for graduate school, which doesn't provide a version for blind students," he says.
He then turned to search for graduate schools overseas. However, English became his nightmare.
Zheng studied in special schools for visually challenged students since primary school, but foreign language was never a main subject.
Prior to quitting his job and resuming studies to learn English in 2009, Zheng only knew the alphabet, a few words and some basic expressions. "Resuming learning English in my late 20s is not easy," he says.
It took him three years of intensive study to gain entrance to a graduate school overseas.
Because the lack of study materials, Zheng needs to spend hours and days scanning textbooks for the visually disabled and copying them, while it may take only five minutes for a sighted person to order a plain English textbook from Amazon.
Wearing a plaid shirt and blue jeans, Zheng sits in front of his computer "reading" websites. When he moves the mouse, the text is read aloud by a special software program. His bedroom is filled with books and newspapers, as well as a computer, on which he spends the majority of his time, and describes it as "the main source to know the world". He also downloads oral study materials online.
"This is my English textbook, New Concept English," he says, picking it out from the stack. The Braille book is only literate to him; from an outsider's eyes, it is paper with nearly invisible dots punched into it.
In his parents' eyes, Zheng has been a sensible, independent and decisive man from a young age.
Zheng made all the major decisions by himself, including studying abroad and choosing majors.
"We just follow his decisions," the mother says.
Born and raised in a small town in east Chongqing municipality Qianjiang, Zheng has never had the chance to see light or color. He was diagnosed as totally blind at birth.
For more China  Face, here