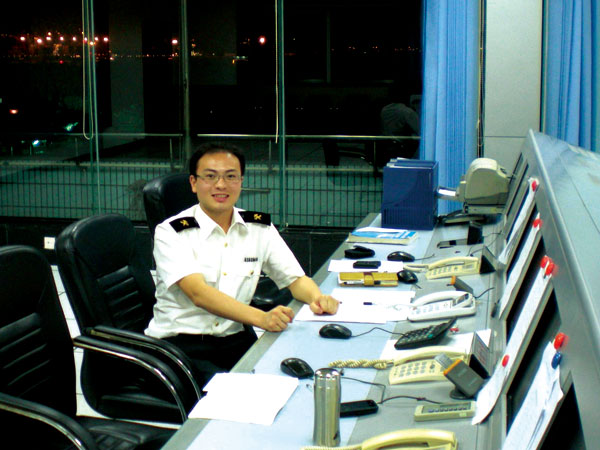 Luo Jie, 25, says he is emotionally attached to the 0.92-sq-km Dachan Island, where he works as a customs officer.
Modern work
Since 2002, the staff has been using global positioning system technology to monitor the shipping routes of the registered vessels and checking about 2 percent of them at the anchorage. Before that, officers boarded every vessel for checking.
The busiest time is between midnight and 4 am. Each day, the staff checks the customs manifest information for about 200 to 300 cargo vessels, replays vessel paths, identifies suspicious vessels and issues go-ahead signals.
The station also checks the natural gas shipped through a pipeline from western China to Hong Kong by China National Petroleum Corp.
Since 2010, the customs unit has supervised 347,267 vessels, boarding 7,426 of them for checking, and cracked 843 smuggling cases involving avoided duty of 4 billion yuan ($656.5 million).
Smuggled imports include diesel, high-value electronic products, cars and drugs, says Liu Haichuan, head of the anti-smuggling police at the customs unit.
Despite the difficulties and low pay - Luo earns a fraction of what he earned at his hotel job - many customs officials stay on the island for an extended time, although they can choose to leave the island every year.
"I'm now emotionally attached to the island. I enjoy working here. It gives me a sense of honor as a customs officer," Luo says, adding that working with the Guangzhou headquarters means opportunity for career growth.
"I plan to stay here for another five to six years," says Luo, who will soon marry his high school sweetheart in nearby Jiangmen.
Luo likes the relatively simple and quiet off-work life on the island, which includes basketball, badminton and swimming. He is memorizing the entries in the Oxford dictionary to improve his English.
Island life has drawn the customs people closer. Farewells are always emotional. Dogs, totaling 12 at the customs, mean more to people than in other places.
"We have an overflow of love here," customs chief Guang says.
"Life is difficult. We have the name of every person who has worked here inscribed on the wall."
 For more China Face, here