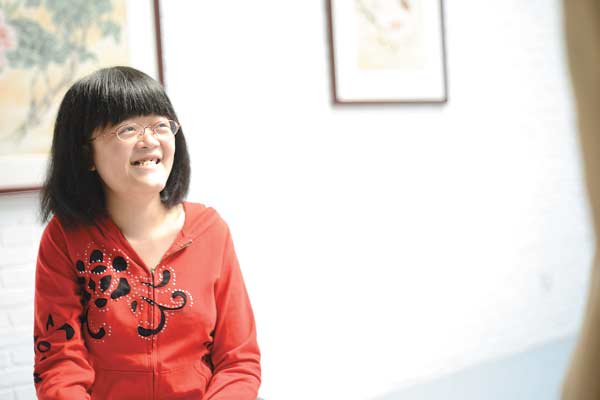 Each of Wang Mengxing's paintings at a ZHC Art Center exhibition in Beijing sold for several thousand yuan. Photos by Bruno Maestrini / China Daily
A young woman with brittle-bone disease overcame the odds with the help of a few good Samaritans to chase her dream of becoming an artist. Her works are receiving positive reviews, as Mike Peters finds out.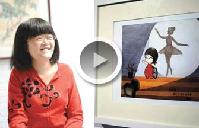 If you ask most people how many times they have broken a bone in their lives, they can come up with the answer pretty quickly. But Wang Mengxing, a 21-year-old artist living in a village in Langfang, Hebei province, puckers a brow at the question. She's not sure how many times she broke a bone in just the past year. Born with brittle-bone disease, snapping a finger or a forearm is an everyday danger despite the protective embraces of a wheelchair and her loving family.
In fact, as Wang raises her right arm in an effort to count last year's casualties, her delicate limb extends at such an awkward angle that her assembled friends flinch a little at her effort.
If she feels any discomfort, however, it doesn't register in her bright eyes. She is quietly enjoying a terrific day. She has just visited the bank to safely deposit money - a fat lot of money - earned from the sales at her first gallery show.
And now, a respected art consultant is visiting her small home studio, full of enthusiasm for her newest work.
In one image, an eager young woman with a page-boy haircut and big round glasses is choosing a red dress from a cupboard. Next to it is a pastoral image titled Life: Sitting on the Grass, Breathing Fresh Air, Listening to Music That I Like. In a third, she sits at the edge of a stage in a wheelchair, casting a shadow of a ballerina that seems to fly like a swan.
"That's how I see myself," she says with a shrug and a shy smile.
"There is a wonderful independence and freshness in her work," says Emily de Wolfe Pettit of the self-portraits, images as clean-lined and colorful as the manga art Mengxing loves.
"There's a very graphic element - it's very clear and direct how Mengxing wants to depict herself," says Pettit, director of Atkins & Ai, with studios in Beijing and London. "And on the other hand there's a lovely, lyrical, romantic quality."
There's a lovely, lyrical, romantic quality about the artist, too.
For more China Face,
here