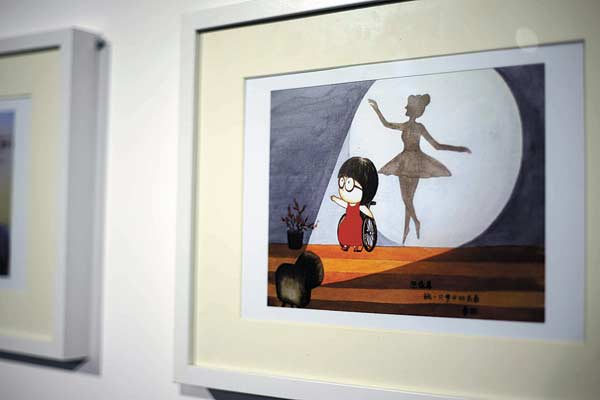 The artist began with traditional painting styles, but her recent self-portraits are getting attention.
"We found this girl with enormous self-confidence and spirit, about 15 or 16 years old at the time," says social entrepreneur Ian Charles Stuart. "She had never gone to art school and was already painting and sketching by herself, self-taught. (She) was already trying to learn a little bit of English from friends nearby, and we just thought this was someone who should be given a little bit of help."
Wang and her sister, Yize, now 14, were born with a condition that understandably terrifies parents. Such children from rural families are often abandoned in China, but the girls' farmer father, Wang Jianjun, and her mother, Rui Hong, say they never considered handing them over to a care institution.
What Stuart and his partner had in mind was not a cash donation but a more practical boost. First, modern wheelchairs gave both Wang and her sister the chance to get around the house and the village without being pushed or carried.
Next came introductions to movers in the arts community, including a gallery owner in the hip Caochangdi area and art professor Zheng Tao, who has become both fan and mentor.
Wang's art then was classical stuff: A luminous copy of a Song Dynasty (960-1279) painting of two phoenixes, for example, and a similarly traditional ink-and-brush study of pomegranates. ZHC Art Center mounted an exhibition of 15 of these paintings - all snapped up by collectors such as film director Tsui Hark within 90 minutes.
A few weeks before the show, the organizers made a suggestion. Could Wang paint something else - in a different style to show a little more range?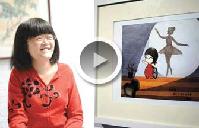 That's when the artist began to sketch what became the luminous self-portraits that Pettit and others think will open doors to the next chapter in the young artist's life.
"There is an aspirational quality that is very warming to see," Pettit says, "as well as the way she uses colors - extremely bold and powerful. Her composition is extremely well-balanced."
Pettit says it may be a blessing that Wang is entirely self-taught. "Of course, in the Chinese system, there is a lot of copying and replication of previous masters. Here we see none of that, so it has a wonderful freshness.
For more China Face,
here