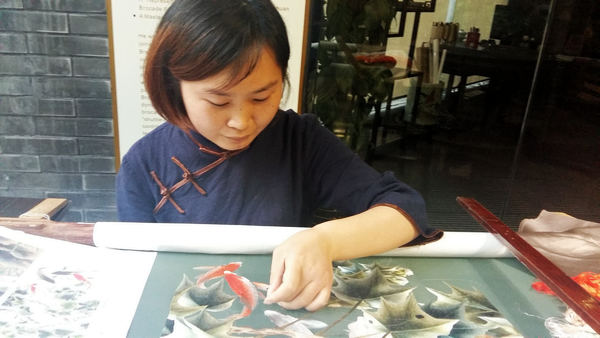 Jiang Mei shows off her skills of Shu embroidery with a piece featuring fish and flowers at the Chengdu Shu Brocade and Embroidery Museum. [Photo by Huang Zhiling/China Daily]
Jiang Mei is so preoccupied with her needlework that she ignores visitors approaching her to look at her Sichuan-style embroidery work of fish and hibiscus.
The 30-year-old from Anyue county in Southwest China's Sichuan province, takes the curiosity for granted and doesn't bother to raise her head until a visitor asks her questions.
Next to her at the Chengdu Shu Brocade and Embroidery Museum is her teacher Peng Shiping, who looks attentively as his 28-year-old daughter Peng Lin embroiders a fish on silk. The 55-year-old master of Shu embroidery would stop her if he found her stitches to be imperfect. Jiang and the Pengs are professional embroiders who live in the capital of Sichuan.
Shu embroidery was included in the list of intangible cultural heritage in 2006 by the State Council.
Shu embroidery is one of the four schools of embroidery in China together with Su from Jiangsu province in the east, Xiang from central Hunan province and Yue from Guangdong province in the south.
Works of Shu embroidery featuring the giant panda, crane, golden carp, hibiscus, peony, lotus, bamboo as well as Chinese landscape paintings please the eye in the museum. Some of the works here have been embroidered by Peng Shiping who is known for his double-sided work-a piece depicts two ancient celebrities on one side and two pandas on the other.
Peng Shiping learned embroidery techniques from his father Peng Yongxing at age 15. The elder Peng was the first in Shu embroidery to win the title of China Embroidery Art Master from the China National Arts and Crafts Society.
Due to the hard work and relatively low incomes, not many people learn to be embroiders.
To Peng Shiping's delight, his only daughter Peng Lin likes stitching. The English major from Xihua University in Chengdu used to work in the hospitality industry earlier.
Because of her interest in embroidery, she started working in the museum together with her father.
Visitors interested in viewing needleworks in progress can go to a quiet corner of the museum where the father, daughter and other embroiders can be seen working together.