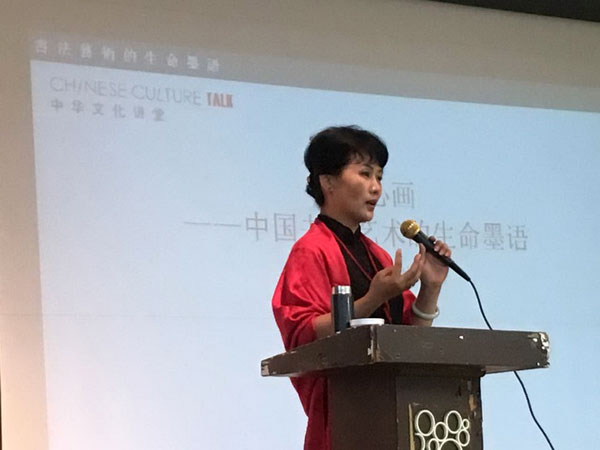 Hu Qiuping gives her speech in Honolulu on Aug 27. [Photo/Chinaculture.org]
At the Chinese Culture Talk debut in Hawaii, famous Chinese calligrapher Hu Qiuping shared her craft in a speech, The Charm of Chinese Calligraphy, in Honolulu on Aug 27.
More than 100 people from cultural, educational and economic circles attended the event. Among the prominent guests were Counselor Gu Jin of the Chinese Consulate in Los Angeles, Chairman Li Zijian of the Hawaii Chinese Republican Coalition (HCRC) and Professor Jiang Song of the University of Hawaii. The speech also attracted much local media attention.
"Chinese Culture Talk is a great platform to show Chinese calligraphy," Gu said. "It also offers an opportunity for Americans to know and love Chinese culture. Cultural exchanges have always played a significant role in our bilateral relations and hereby I hope this high-level talk can cement our friendship and strengthen multiculture in Hawaii."
Li and Jiang also weighed in. They both said they hoped there will be more cultural events, so Hawaiians have more chances to appreciate Chinese culture.
Hu's speech was informative and entertaining. She introduced Chinese calligraphy from four aspects: its origin and development, its expressive power, its aesthetics and its Chinese female calligraphers. During her presentation, representative works of famous calligraphers were analyzed and assessed. She also shared her experiences as a calligrapher for more than 40 years. Her speech was interrupted from time to time by laughter and applause.