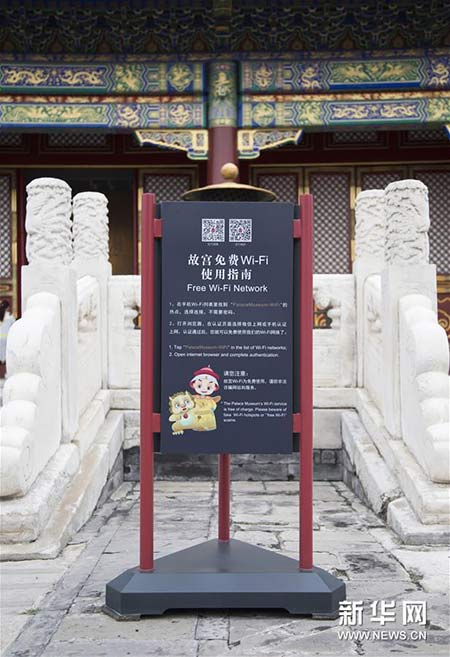 Photo taken on Aug 1, 2016 shows a user guide for the free Wi-Fi network in the Palace Museum in Beijing, capital of China. [Photo/Xinhua]
Free Wi-Fi is now available on a trial basis at the Palace Museum, according to Chinanews.com. Visitors can access the free internet service by linking to "PalaceMuseum-WiFi" using their smartphones or tablet computers.
After a year's construction, the Wi-Fi coverage project to provide better digital service for Forbidden City visitors finished its first stage. There are 200 wireless hotspots and the signal covers the core open areas in the Forbidden City, including the exhibition halls, rest areas and dining area.
First time users can access the Wi-Fi service by logging in through WeChat or mobile message verification. During the trial, visitors can give feedback by emailing WiFi@dpm.org.cn.
According to Chinanews.com, the Palace Museum will continuously increase wireless hotspots from now on. By enjoying the wireless internet service, visitors can get more detailed information on the introduction of exhibitions and creative cultural products, as well as take part in interactive games and treasure hunt activities.