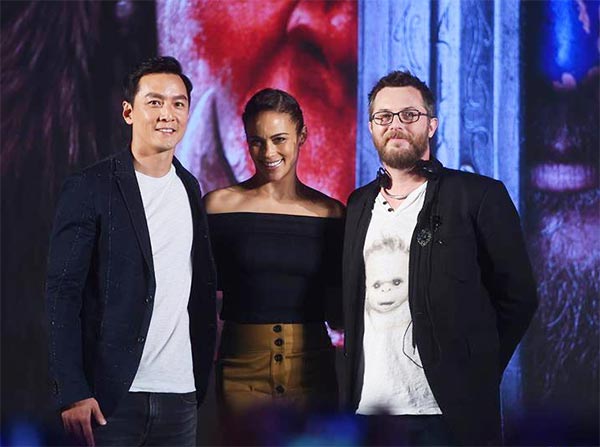 British director Duncan Jones (right), actor Daniel Wu and actress Paula Patton attend a promotional event in Beijing. [Photo provided to China Daily]
Facing colonization from the orcs fleeing their degenerating land, humans on Azeroth stand up to fight for their home. But unlike typical good-versus-evil stories, the film has two heroes-Sir Anduin Lothar and Durotan-in opposite camps to protect their lands and people.
Jones says he has immersed his personal emotions and life into the characters and storyline. His father, pop star David Bowie, died in January and his wife has recently been diagnosed with cancer.
And more than relating to emotions, fans of the game will also likely be impressed by the film's vivid sets and stunning battle scenes.
About 2,000 scenes were made with special effects by Industrial Light and Magic, the well-known studio founded by George Lucas in 1975.
Chinese moviegoers had lined up in 2009 in large numbers to watch James Cameron's Avatar and its 1,600 special-effects scenes.
And Peter Jackson's The Lord of the Rings trilogy has drawn multitudes for all three installments of the series since 2010.
Most who hadn't read the books of British author J. Tolkien's The Lord of the Rings fantasy series just wanted to be entertained, Jones says.
"I think Peter Jackson succeeded in doing that," he adds.
Jones aims to duplicate that success with Warcraft.