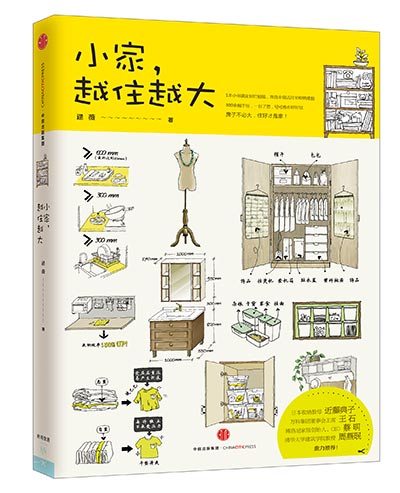 Cover of A Growing Space from Small Houses. [Photo provided to China Daily]
Home decoration and storage are favored topics for urban Chinese to read about and discuss.
That's especially true when compared to 30 years ago. People today find they have more to spend and it's easier to buy a large quantity of goods online, but soaring housing prices only allow limited living spaces in cities.
Lu Wei, 35, a Guangzhou-based interior designer, noticed the discrepancy when she was involved in designing some 2,000 house patterns and handing over and revisiting the owners of 15,000 sets of decorated apartments.
"One of the dwellers' biggest problems is where to store all those increasing in-house items, which is forgivable, because Chinese have been owners of commercial residential buildings no longer than 20 years. I can still recall the excitement when my father handed me the key to our own apartment in the 1990s - it's natural they're inexperienced in terms of interior design and house arrangement," Lu tells China Daily.
Lu believes the key to living elegantly and smart is not on the designers, but on the Living Quotient (LQ) -- a term she coined following IQ and EQ in her new release, A Growing Space from Small Houses by China Citic Press.
The book is based on her WeChat posts. Together with cartoon illustrations, Lu began posting her ideas on the social media platform one year ago.
"But one can't always be satisfied with fragmentized reading. Writing a book is my way of sorting out my thoughts, just like arranging a house," she says.
She says she has witnessed many new trends and developments in the maturing markets of home design and storage in the country, but it's only lately that Chinese taste and LQ are improving accordingly.
"It's only somewhere around 2005 that the apartments began adopting the entrance designs and I remember in one case we worked six months to reserve a space for entrances at the beginning," she says.
Lu's book caters to the needs of a Chinese kitchen that often uses stir-fry cooking techniques and suggests ways to create a 1-square-meter walking-in closet. It also shows ways to use at least 12 percent of the house for storage.
"Because I have calculated that, in 10 years a family of three members living in 100-square meters house will increase 10 cubic meters of items that need to be stored, amounting to the capacity of 300 suitcases as big as 20 inches," Lu says.
She firmly believes that skills are least important. In all, the most important assets in a household are the people living there who really love life and their family members.