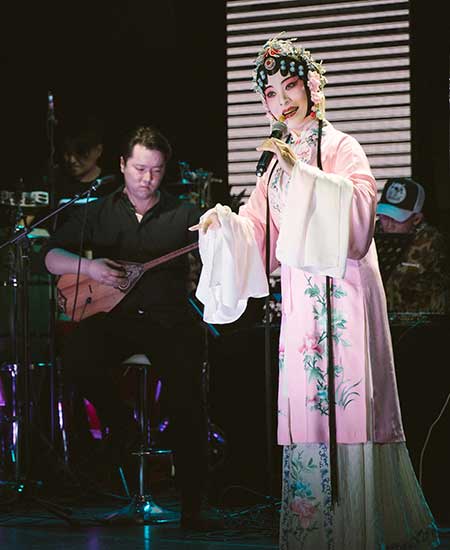 Kunqu Opera actress Gong Yinlei performs at a China Music House show in Beijing.[Photo provided to China Daily]
A decade ago, when songwriter and producer Lu Zhongqiang began to operate his company, 13 Months, from a Beijing attic, his vision was to promote original music in China.
His indie record label has helped rock and folk musicians Ma Tiao, Xie Tianxiao and Wan Xiaoli, among others, to shine through Folk on the Road, which is a series of live performances touring different Chinese cities since 2010.
The series is Lu's brainchild.
The 46-year-old is now focusing his attention on a new project, titled China Music House, or Xin Yue Fu, which gets Chinese opera performers and musicians of traditional instruments with DJs and Western artists on one stage. Launched last May, the shows have since toured Beijing, Shanghai, Nanjing, Hangzhou and Suzhou, drawing more than 20,000 people.
On April 16, Lu, along with artists involved with the project, released five albums that contain songs like Dreaming Peony Pavilion, which has six modern takes on the 600-year-old Kunqu Opera; Pingtan Orient Soul, which is a contemporary interpretation of seven classic works of pingtan, a traditional form of storytelling and ballad in the Suzhou dialect; and Traditional Opera Remix, which combines other Chinese operas such as Peking Opera and Cantonese Opera with jazz and electronic sounds.
Lu and China Record, among the country's largest record companies, have entered a deal to release CDs of joint performances by international musicians and Chinese opera performers.
As a result, New York-based oud player, Hadi Eldebek, who is a member of cellist Yo-Yo Ma's Silk Road Ensemble, will join in China Music House in August and cooperate with Chinese musicians on new works.
"In my youth like many others I too liked rock, folk and all music that sounded cool and individualistic. But now I unconsciously look for old sounds that I heard as a kid."
His parents were both Huangmei Opera performers before their retirement from a local troupe in East China's Anhui province. After graduating from the music department of Nanjing Arts University and learning double bass, Lu tried to shun Chinese opera and worked as a producer for Warner Music China and China Central Television's popular touring pop concert series, The Same Song.