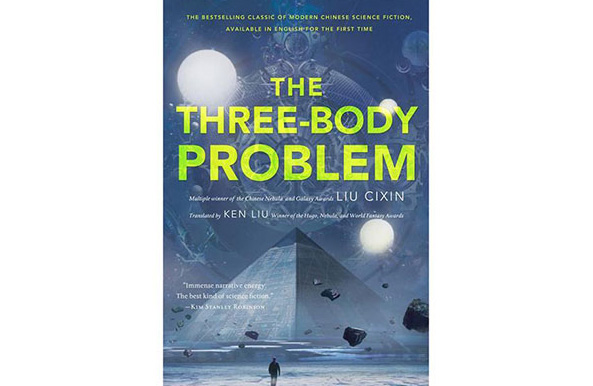 Book cover of The Three-Body Problem. [Photo provided to China Daily]
Author Liu Cixin's Nebula award-winning The Three-Body Problem was selected as one of Tsinghua University students' favorite books Sunday.
A list of the 10 favorite books was released, commemorating the 21st World Reading Day and the 105th year of Tsinghua University, one of China's top secondary education institutions.
A Dream of Red Mansions, one of the four classic literary works of China and Fortress Besieged by Qian Zhongshu, one of the masterpieces of 20th century Chinese literature, were also on the list.
The list, which was created based on votes by experts, teachers and students, took five months to compile. Politeria, A Dream of Red Mansions, Ren Jian Ci Hua, A History of Western Philosophy, Fortress Besieged, Peasant Life in China, One Hundred Years of Solitude, Ordinary World, The Kite Runner and The Three-Body Problem are on the list.
Renowned writer Yang Jiang donated all of her income from publishing and royalties, along with that of her husband Qian Zhongshu, to her alma mater, Tsinghua University, and established a "Read Good Books" scholarship to encourage those who love to read, who read good books and lead in reading. Ninety-four students were each awarded 8,000 yuan ($1,230) this year. Within in them, 50% majored in engineering, 20% in sciences. Those majoring in the arts, who many consider may need to read often, only accounted for 30% of the recipients.
Qiu Yong, President of Tsinghua University, speaking at the school's 105th anniversary, encouraged students to read good books.
"Reading can let us forget our identities and engage in dialogues with the talented. I hope reading can become another excellent tradition in Tsinghua, along with physical exercise," said Qiu.
Qiu donated a set of Ordinary World to freshmen last year, and said that he would recommend works for the list in the future, because it is not "just a personal recommendation, but also the choice of the students of Tsinghua."
Related:
Three-Body Problem now internatinoal bestseller