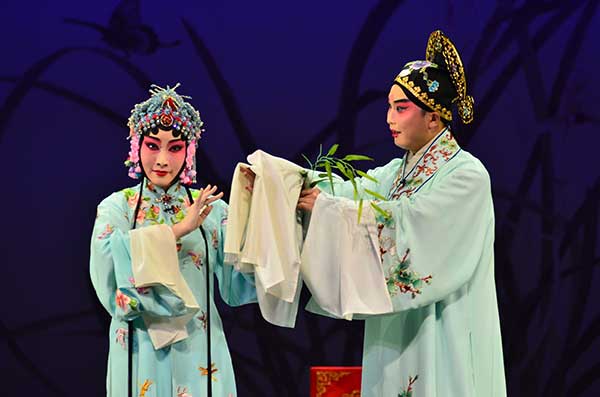 The Peony Pavilion, an opera by Tang Xianzu, is staged in Chenzhou, Hunan province, last year.[Photo by He Maofeng/Asianewsphoto]
Despite the numerous parallels between William Shakespeare and Tang Xianzu, it's hard to mask their literary and cultural differences.
Tang Xianzu and William Shakespeare were contemporaries and both masters of their craft, who coincidentally died in the same year.
Scholars who specialize either in Tang or Shakespeare are having a field day looking for similarities between the two as the anniversaries of their deaths are marked in the United Kingdom, China and around the globe.
There is even a student production, a mashup of Shakespeare's A Midsummer Night's Dream and Tang's A Dream Under the Southern Bough, which will be presented in Leeds and Edinburgh in the UK, and in three Chinese cities.
Japanese scholar Aoki Masarut was the first to draw a link between the two in his 1943 book A History of Chinese Literary Thought, yet, dying in the same year, 1616, is not reason enough to lump them together.
"Tang Xianzu was not China's Shakespeare," said Chen Guohua, a professor at Beijing Foreign Studies University, striking a rare discordant note in the emerging consensus.
"He was China's Tang Xianzu."
While nobody in the English-speaking world can hold a candle to Shakespeare, Tang was just one of the greats of Chinese drama. Guan Hanqing (1220-1300) and Wang Shifu (1260-1336) were equally accomplished.
Both Tang's and Shakespeare's plays were meant for the stage, but they served different audiences.