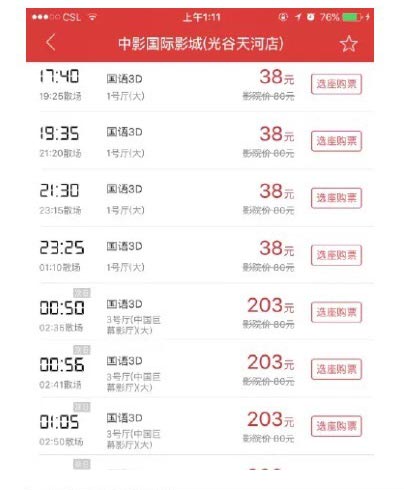 A screen capture from Sina Weibo account of Dongfang Daily. [Photo/Weibo]
According to a Weibo post made by Shanghai-based
Dongfang Daily
, ticket prices at China Film Cinema Guanggu Tianhe branch in Wuhan, Hubei province rose sharply after midnight, rising from 38 yuan ($6), a widely accepted discounted price for films, to 203 yuan ($31) at midnight. Furthermore, tickets were sold for showings of the 105-minute film in the same movie hall (hall No 3) at merely six minute intervals. Logistically speaking, this is not very likely.
"More than 80 percent of ticket sales are made through third parties (referring to e-ticketing apps). Only when cinemas reach a certain number of screenings can we receive subsidies from them. I personally opted for increasing the number of invalid screenings for the subsidies. I apologize for any of the inconveniences this may have caused, and I state that this cinema has not signed any agreements with the distributor of Ip Man 3 for direct purchases of movie tickets," said Jin Zhe, marketing manager at China Film Cinema Guranggu Tianhe branch.
According to Chengdu Economic Daily, similar situations are happening nationwide, including Hengda Cinema in Dongguan, South China's Guangdong province and Pacific Cineplex in Chengdu.
Liu Hui, General Manager of UME Cineplex Huaxing branch in Beijing, a theater accused of faking sold-out shows on weekdays, said she is helpless to face the allegations during an interview with Beijing News.
"People are often suspicious at the good box office performances of domestic films, but this is in itself a doubtful point to make. For a film like Ip Man, it is actually very normal to have a box office performance and showing schedules like we do. I would not be surprised if the final ticket sales reach 1 billion yuan ($154 million)," said Liu.
According to Liu, Disney's Zootopia, which is also playing right now, is showing 13 times a day at her theater. The number for Ip Man 3 is 15, not remarkably high compared to Zootopia. Attendance rate is roughly between 70 to 80 percent on weekends, and as of now, only two shows on the afternoon of March 7 and four shows on the afternoon of March 8 are sold out.
"Sold out shows are concentrated around International Women's Day (March 8), as some of the employers are buying tickets for their employees. Why is it that no one questions sold out shows for imported films, and makes such a fuss out of it when it comes to domestic films?" Liu added.