Last month, Gugong Taobao published several pictures of serious historical figures with surprisingly amusing gestures, such as the Yongzheng Emperor of the Qing Dynasty wearing sunglasses and poet Li Qingzhao of the Song Dynasty (960-1279) making a victory sign, saying one of their designers has gone crazy.
After opening the online store in 2010, the Palace Museum has produced many creative and cute gadgets, and interacted with Internet users in a humorous way.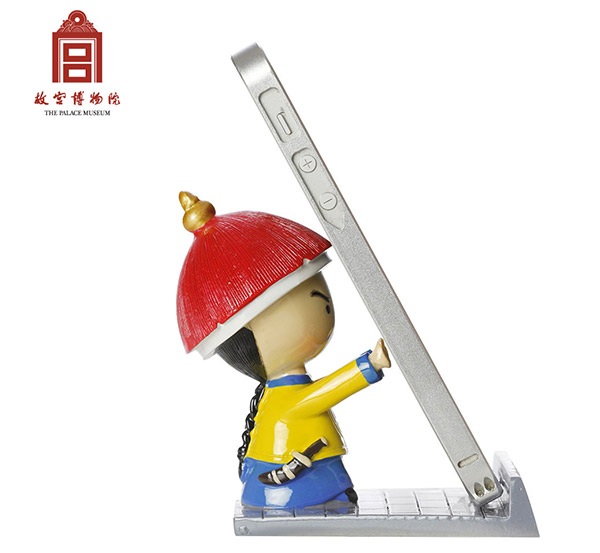 A screenshot of a mobile phone holder sold in the Palace Museum's online store. [Photo/Taobao]
A mobile phone holder with an imperial bodyguard as a seat, a baggage tag engraved with four Chinese characters meaning "travel under imperial orders" and a fan with Yongzheng's replica autograph "I miss you too" are among the 7,000-odd cultural creative products popular among young people.
According to public data, sales surpassed 700 million yuan ($109 million) in the first half of this year, higher than last year's annual sales.
"We are trying every possible way to encourage people to take home the culture of Palace Museum," said Shan Jixiang, director of the museum.
Shan said his team needs to better understand the public's needs, dig out information from the museum's collection and use modern technology wisely.
Zhang Jingcheng, director of the China Creative Industry Research Center, said the museum has set a good example for the creative industry.
"By converting its historical and cultural resources into cultural creative products, the museum not only gets economical benefits but also spreads historic culture," Zhang said.
Related:
Sales of Palace Museum's cultural items boom
Keepers of the past celebrate China's world heritage