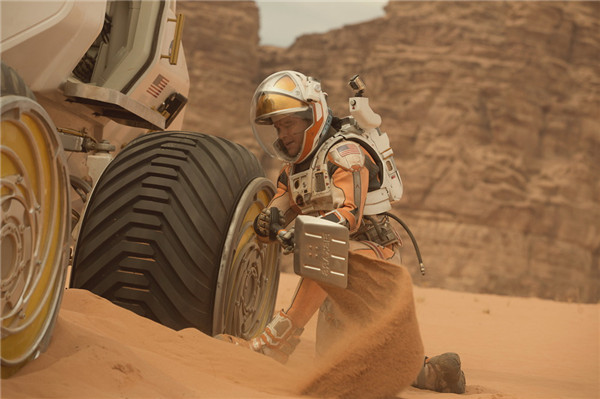 How do you survive alone on an arid planet 225 million kilometers from Earth? The Martian provides the answers.[[Photo provided to China Daily]
"I'm not very smart ... and might be a disaster in science. But I do everything in the way that I've learned to do," says Scott, who graduated as an art student from the London-based Royal College of Art.
The screenplay, adapted from American author Andy Weir's 2011 novel The Martian, is actually more like a scientist's dairy filled with complex scientific experiments and mathematics.
Weir worked as a software engineer for around 25 years before he self-published the book online, which is widely acclaimed for its depiction of real science and true lives of astronauts.
Scott says that even as a veteran director with multiple commercially successful sci-fi blockbusters he did not understand every detail when reading the book, but he solved the problem by drawing pictures before filming.
Agreeing with his director, Damon says: "During production, we sat down together and Ridley read the script line by line to me. He showed me visually the scenes by drawing them."
Damon says he was prepared for a tough shooting experience, but Scott made everything "go pretty fast".
The cast also had a chance to see real views instead of performing surrounded by green screens, as Scott is a director who prefers to construct real sets rather than doing digital post-production.
The scenes of Mars' landscape-mostly desert and sand dunes-and the NASA building were filmed on a sound stage in Budapest, one of the largest filming locations in the world.
Producer Simon Kinberg says: "The tale is very real, something that I've hardly seen in previous sci-fi movies. It has a nice balance between real science and something that is funny, entertaining and humorous."