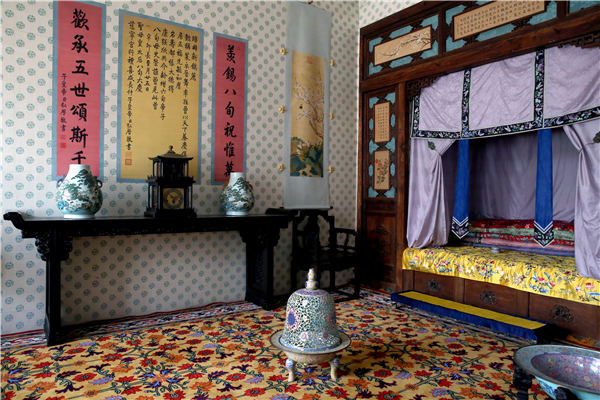 One of the bedrooms in Shoukang Palace, built for Emperor Qianlong's mother in the western part of the Forbidden City, was used as a residence for royal women. Photos by Jiang Dong/China Daily
From the luxurious bedrooms of the mothers of kings to personal worship areas filled with Buddha statues, the Palace Museum is showing us a different side of imperial China. Deng Zhangyu reports.
Visitors to the Forbidden City can now get a glimpse of how the mothers of emperors lived. They can view luxuriously decorated bedrooms and a private worship hall among other treasures of the Palace Museum in Beijing.
The Cining Palace complex in the western part of the Forbidden City was opened on Saturday to the outside world for the first time as part of the celebrations of the 90th anniversary of the museum.
To celebrate the birthday, more than 1,000 treasures from the royal families were displayed in eight shows in four newly opened areas: the Cining Palace complex for emperors' mothers, wings of the Meridian Gate, East Prosperity Gate and the Baoyun Building, a warehouse built in 1914 to store treasures.
Shan Jixiang, museum director, says most of the precious items on display are being shown for the first time. He says the shows, which took three years to prepare, offer a rare opportunity for visitors to learn more about the emperors and their families, such as the women's residences that are often featured in films.
"There are even ghost stories about the women's residences in the Forbidden City. Now visitors can see that the stories are just tales," says Shan.
One of areas opened up is the Shoukang Palace, which forms a part of the Cining Palace complex.