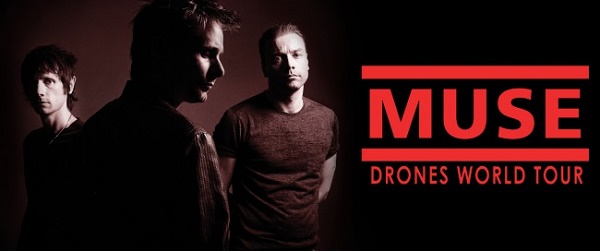 A poster of the British rock band Muse. [Photo/CCTV.cn]
British rock band Muse is currently on their first-ever tour in China. On Saturday night, they made their mainland debut at Beijing's Mastercard Centre.
Famous for their highly conceptualized albums, innovative instrumentation, and outstanding showmanship, Muse have often been heralded as "the best live act in the 21st-Century".
But for this "Drones" tour: when they say "back to basics" they mean it! There are no spaceships or tricks, only a three-piece band rocking out to hit singles old and new, thrilling Chinese fans who'd waited years to see them live.
The theme of "Drones" is a lament for the loss of humanity in modern warfare and how technology can detach people from their hearts.
"We thought if we were gonna try... you know the art form of an album is a little bit non-existent these days. People are much more accustomed to & interested in listening track-by-track... That's inevitable, that's gonna happen. But we're seen as we're going to record a bunch of songs together, and release them essentially as an album," drummer Dominic Howard said.
"We thought, 'Let's try and make the album (at least) feel like it's one piece of work.' So the idea of doing a concept album felt like the right thing to do, to try like tie up all the songs together, have every song be a meaningful part of the album. I suppose that's one of the reasons why we decided to do that, really."
After producing two albums on their own, Muse collaborated with renowned producer Robert John "Mutt" Lange this time. Lange is widely known for shaping the sounds of bands AC/DC and Def Leppard.
"He's got great ideas. He's a very, very musical guy, so he really kind of understands what everyone was playing, the instrumentation, the notes... He's got the vibe at the harmonies. He just really understands music... The last two albums, we've been very much left by our own devices, producing by ourselves. And we're very comfortable like that, so able to experiment and push ourselves. But because we have done that twice before, we felt like it to do something different, to get to work with someone," Howard said.