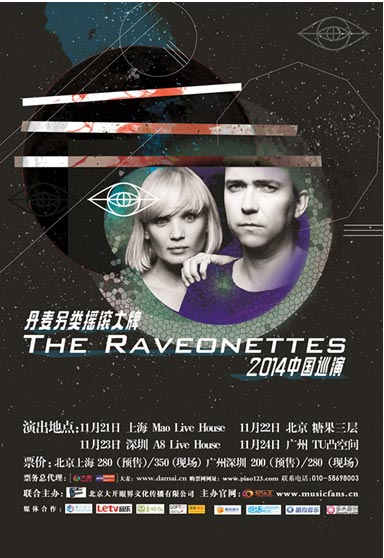 Danish rock band The Raveonettes will begin their tour in China in late November. Photo provided to China Daily
The Raveonettes, an alternative rock duo from Denmark, is to tour in China with their new album.
Sune Rose Wagner sings, plays guitar and instruments while Sharin Foo, who also sings, plays the base. Their music is inspired by The Everly Brothers, as well as the pop sounds from The Jesus&Mary Chain.
Their music features a strong wall of sound effect. They have also combined the sounds of the 60's as well as intensive electronic effects.
The band has participated in several world-famous music festivals, such as Lollapalooza, Coachella Valley, Glastonbury, SXSW and Austin City Limits.
In 2006, Blender magazine chose Sharin Foo as one of "the hottest female figures in rock'n'roll history," a title that previously awarded singers including Courtney Love, Joan Jett and Liz Phair.
In 2003, their EP "Whip in On" won The Best Rock'N'Roll Album of the Year at the Danish Music Awards, Denmark's equivalent to the Grammy Awards.
They have also been praised as "the next wave of contemporary rock music" by Rolling Stones.