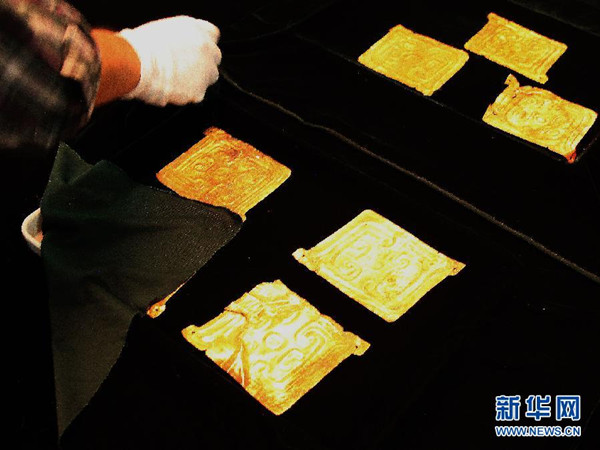 A staff member in Gansu Provincial Museum sets out the newly returned 24 Chinese gold relics. [Photo/Xinhua]
Twenty-four solid gold ornaments dating back almost 2,000 years were returned to China without compensation on Monday, on the grounds that they had been looted from tombs in Gansu province and held by French collectors. Following a similar action this summer, a total 56 priceless relics have returned home in two months.
Christian Deydier, a noted French collector and holder of most of the gold items, attended the hand-over ceremony with Xia Hongmin, vice governor of the province, at Gansu Provincial Museum. According to the State Administration of Cultural Heritage, the relics will be permanently stored and displayed in the provincial museum.
The gold relics came from tombs in Dabuzishan in Lixian County, Gansu Province. The tombs belonged to residents of Qin, one of the small kingdoms during the Spring and Autumn period (770 BC-476 BC) of Chinese history. In 221 BC, the king of Qin united China's kingdoms, founded the Qin Dynasty and became the country's first emperor.
Deydier and another French collector, Francois Pinault, returned 32 artifacts from the same tombs in July, the first time cultural relics have been successfully returned to China following bilateral negotiations between the Chinese and French governments.
While attending an exhibition on the tombs, Deydier said he hoped all Dabuzishan artifacts lost in foreign countries could soon "return home and be united".
"When I saw the Dabuzishan gold relics in 1993 for the first time, by my own judgment, they should be valuable, although my European counterparts didn't agree with me at all. I invited my Chinese friends to France, and they confirmed my viewpoint after careful observation. In the international antiquities black market, people resmelt the gold decorations and sell them.  So I've talked with officials in China's State Administration of Cultural Heritage, and told them I planed to collect the Dabuzishan relics lost in Japan as soon as possible. I wish to bring all of them here on my next trip to China," Deydier said.