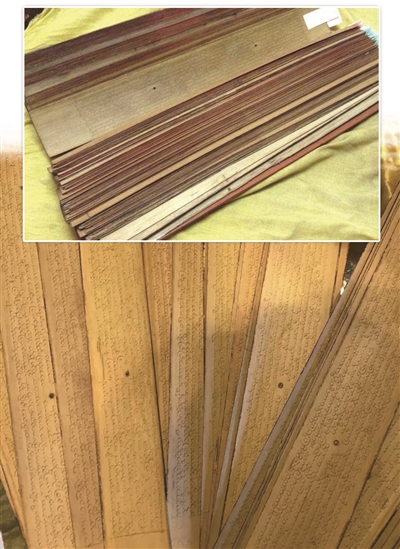 The anonymous collector in Beijing will exhibit part of his collection, 171 prized Pattra-leaf sutras written in Sanskrit. [Photo/chinanews.com]
A 10,000 yuan ($1,571) reward is being offered to whoever can translate the Sanskit scripture written on a prized collection of 171 Pattra-leaf sutras that will be exhibited at the 3rd Taihu International Buddhism, Tourism and Culture Expo in Wuxi, Jiangsu province Oct. 23-26.
Originally from ancient India, Pattra-leaf Buddhist sutras are scriptures written on the leaves of plants. The anonymous collector, who lives in Beijing, received four volumes of Pattra-leaf sutras, almost 1,000 pieces,from his mother, a devout Tibetan Buddhist. He knew nothing about these leaves with strange characters written on them, but kept the collection locked in his safe box.
Recently, he read about another private collector in Beijing who donated his Pattra-leaf sutras to Yunju Temple. After a photo comparison, he finally realized what his collection was and wanted to know the secret of the Sanskrit sutras on the leaves.
He asked a woman who claim to understand Sanskrit. She read only one piece, and said that it recorded the changes of the universe and nature. The expo's organizing committee decided to offer areward to whoever can translate the sutras.
The exhibition will mark the debut of the Pattra-leaf sutras. Both the collector and organizing committee hope that more people will get a better understanding of Pattra-leaf sutras as well as the profoundness of Buddhist culture.
With a history of over 2,000 years, the sutras are valuable aids to those researching Buddhism. Most ancient Pattra-leaf sutra manuscripts came from India between the eighth and 14th centuries. These scriptures have been a key part of exchanges between ancient India and traditional Tibetan culture.
In the early Tang Dynasty (618-907), Xuan Zang, a Chinese monk, made a 17-year journey to carry 657 Buddhism scriptures from India to China. All of them were written on Pattra-leaves. However, as time went by, most of the Pattra-leaf sutras were lost. Only some noted temples in China keep pieces of them.
Since 2006, the Chinese Academy of Social Sciences, the China Tibetology Research Center and the government of the Tibet Autonomous Region have partnered to protect Pattra-leaf scriptures.