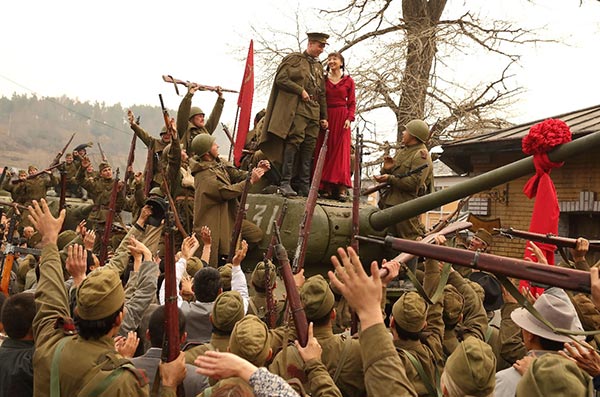 Ballet in the Flames of War revolves around the romance between a Chinese ballet enthusiast and a Russian scout. [Photo provided to China Daily]
Beginning with the reminiscence of the female protagonist, the movie revolves around the romance between a Chinese ballet enthusiast and a Russian scout in Northeast China-much of the area that was occupied by Japanese forces from 1931-45.
"There have been numerous movies on the war, with most of them depicting political leaders and military victories," says the Chinese director Dong Yachun. "We wanted to make it about the common people's struggles during wartime."
The movie was listed among the most recommended titles at the 2015 Chinese Film Festival held in Moscow in May. It was also selected as the closing movie for the Shanghai International Film Festival a month later. It is among the top five movies on the war that the Chinese government has recommended this year, Dong, a veteran moviemaker, says.
The movie is inspired from history, and set in the backdrop of a fictional love story.
After Japan surrendered on Sept 2, 1945, some 300 Japanese soldiers and officers fled into the forests bordering China and Russia. Upon being discovered by two Chinese children, the Japanese troops slaughtered the residents of an entire village in Northeast China's Heilongjiang province, and attacked a Soviet troop camped there, killing about 142 soldiers.
Chinese and Soviet armies killed the Japanese invaders 28 days after the surrender, making it the last recorded battle at the time.
The movie's male protagonist is a Soviet scout who sacrifices his life in the battle.
Beijing-based August First Film Studio is the main producer of this movie. The studio has produced 2,400 military movies in the past.