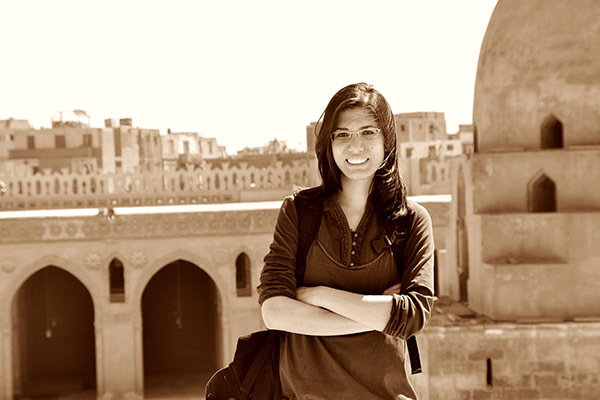 Egyptian Sinologist Mai Ashour at the historical mosque in Cairo. [Photo provided to chinadaily.com.cn]
The rapid development of China's economy in the past three decades has not only drawn the world's attention to its economic sphere, but also caused the world to notice its unique culture. Chinese literature, though an important part of the Chinese culture, was not widely read by others outside China until Mo Yan became the first Chinese winner of the Nobel Prize for Literature in 2012.
But to Sinologists and translators, who have long devoted their time and passion to the worlds woven by Chinese writers, Chinese literature is not something new. "Since the 19th and 20th century, Sinologists and Chinese scholars have been promoting Chinese literature overseas, and they have helped the world to understand China through their lens," said Zhang Longxi, a professor teaching at Hong Kong City University.
In this ongoing series about the translation of Chinese literature, we invited some Sinologists to share with us their observations about how Chinese literature is received in their countries, their opinions on the promotion of Chinese literature and their stories during their translation. In this article, we invited Egyptian Sinologist Mai Ashour to talk over these issues.
Mai Ashour is a young Sinologist and translator. She graduated from Chinese Language and Literature Department, Cairo University. As a lover for Chinese literature, she translated a lot of Chinese short stories, poses and poems into Arabic and wrote a lot of articles about China and Chinese culture. She is also translator of the book Ranghaiziaixuexi (Make study enjoyable to kids).