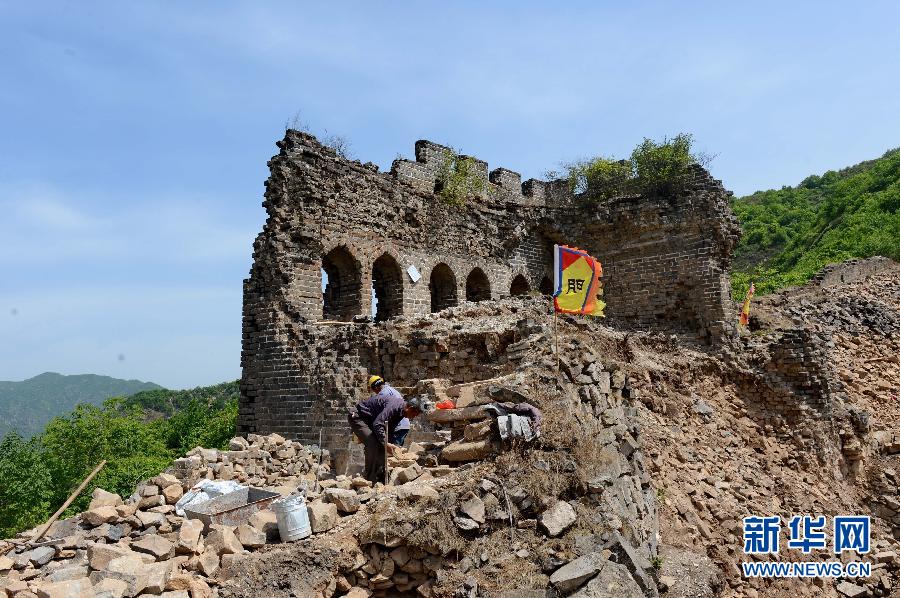 Workers repair the Banchangyu part of the Great Wall. [Photo/Xinhua]
Accordign to Dong Yaohui, it is difficult for the government to fully protect the Great Wall. "In Funing County, there are only 9 people in the department of cultural relics, but they have to go on a 142.5 km tour of inspection. It's definitely impossible to take good care of the Great Wall by themselves," Dong said.
Dong also stressed that the counties along the Great Wall are relatively poor. Most of the counties surrounding the Great Wall in Zhangjiakou are national assigned poverty counties. Local governments cannot afford to repair and protect the Great Wall, or only invest in the parts which bring in revenue from tourism.
To some people, developing tourism is an effective way to protect the Great Wall. Xu Guohua, the head of Banchangyu Great Wall Development Company, said that the destruction from the villagers has stopped after development. Meanwhile, tourists know which part of the Great Wall is endangered.
"You have to admit that the development of the wild Great Wall brings rules and regulations to both the villagers and travelers. In recent years, the protection of the Great Wall in our scenic spot became much better than the undeveloped parts in our county," said Xu.
However, many point out that it is impossible to develop the whole Great Wall into tourism sites. And the development may bring more visitors to the endangered Great Wall, but not all the tourism development companies are committed to protecting the Great Wall. Instead, some of them only focus on the income from tickets, regardless of the intrinsic value of the Great Wall.
How to protect the disappearing Great Wall? Obviously, it is an important test for Chinese society.Just like what Dong Yaohui said in an recent article, "the Great Wall belongs to everybody of China. The duty of protection of the Great Wall not only belongs to the government, but also to the common people. The most urgent goal for us is to arouse the enthusiasm of the public to protect the Great Wall. "