'Great Wall', 'Big Bang' look to put China on heavyweight boxing map
A couple of hulking Chinese heavyweights are looking to make their mark in the pro heavyweight boxing ranks.
Taishan "Great Wall" Dong has won all five of his professional bouts, three by knockout. Also called the Yao Ming of boxing, he stands 7 feet tall, weighs a chiseled 287 pounds and has an 84-inch reach.
Zhang "Big Bang" Zhilei is a 6-foot-6, 260-pound southpaw and 2008 Beijing Olympics silver medalist.
Zhang (3-0) will fight his fourth pro bout, a four-rounder on Saturday at the Barclays Center in Brooklyn, New York, on the undercard of the Miguel Cotto-Daniel Geale WBC middleweight. The event is being produced by Jay Z's RocNation Sports.
Zhang, 32, is being promoted by RocNation's Dino Duva, son of the legendary Boxing Hall of Fame trainer and manager Lou Duva. Zhang is currently living in New Jersey and being trained by Diego Rosario, who worked with former heavyweight champ Bruce Seldon.
"He's fast, his footwork is good, and he punches hard," his translator and assistant Kurt Li, told China Daily in a conference call with Zhang and Duva on Tuesday. "That's like a package. On top of everything, he trains hard."As far as what he needs to work on, Zhang said "two things: technique, little by little, and controling the rhythm of the fight".
Zhang began his amateur career in 2003, competing in the World Championships. The next year he fought in the World University Boxing Championship and reached the finals.
At the 2007 World Championships, Zhang took a bronze medal, which qualified him for the 2008 Summer Olympics in Beijing, where he reached the super heavyweight finals and took home the silver medal.
Zhang, who is from Zhoukou, Henan province, is well known in China.
"He was the prospect of Chinese heavyweights," Li said. "He got a lot of attention."
Zhang also competed in the 2012 London Olympics, losing to eventual gold medal-winner Anthony Joshua of Great Britain.
One of the reasons Zhang waited to turn pro was because "my country needed me" in international competitions, he said.
On Aug 8, 2014, Zhang made his professional debut with a first-round knockout over Curtis Lee Tate in Fallon, Nevada. Tate went to the canvas after he was hit by what appeared to be a punch to the left shoulder. But the video was deceiving, Zhang said.
"The most important punch was the first punch, on the forehead," he said.
The question for Zhang, as it is for any boxer with title aspirations, is how he will do against seasoned competition. His opponent on Saturday is Glen Thomas (1-3). Zhang's goal is to be a 10-round fighter by year-end.
And how did Zhang come up with the nickname Big Bang?
"I believe the big bang is the origin of the universe, and I want to have that kind of impact in the ring," he said.
"Within two years, he's going to be ready to fight for the world heavyweight championship," Duva said.
Born Dong Jianjun in Lanzhou, Gansu province, Dong, 27, took the name Taishan when he climbed Mount Taishan, one of the five sacred Taoist mountains in China.
Before turning to traditional boxing, Dong was a kickboxer and muay thai fighter in Beijing.
Dong, who now lives in California, has signed with Golden Boy Promotions, run by former champion Oscar de la Hoya, who won 10 world titles in six different weight classes. Dong is being trained by Buddy McGirt, a former welterweight champ. Dong's thudding body blows have moved his opponents across the canvas.
On May 9, in Dong's previous fight, on the Canelo Alvarez-James Kirkland undercard, he took four rounds to defeat journeyman James Kirkland (6-18-3).
But he came roaring back in a May 29 bout in Indio, California, knocking out an overmatched club fighter with a brutal right cross to the jaw. The KO racked up thousands of YouTube views.
"I'm very happy and excited about my performance," in the last fight, Dong said in an interview with China Daily on Thursday.
"My height definitely is beneficial to me," he said. "What I have learned is to be relaxed, or the muscles will tense up."
As for what he needs to work on, Dong said: "My footwork, how to control my punches and strategy, to look for the right time to do the right thing.
"I want to get the best opponent that is world class; however, at this time, the more training that I do, the more fights to sharpen my skill, I'm confident I can reach a world title chance soon," he said. "Championship comes after personal capacity and training.
"My maximum potential has not been revealed yet," Dong told foxsports.com on May 25. "That is why I train hard, in order to become a world champion."
And what about these two personable heavy hitters someday facing each other in the ring?
"It's possible," Zhang said.
"Sure, no problem," Dong replied. "I'm sure it would arouse the public attention in China."
"I believe they both have a long way to go," Duva said. "If they both keep fighting, developing and winning," a potential fight between the two could be "the biggest sporting event in Chinese history".
Contact the writer at williamhennelly@chinadailyusa.com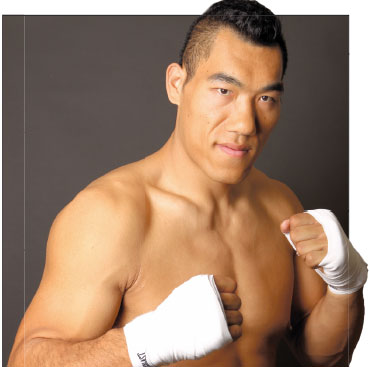 Taishan Dong combines massive size and punching power.Provided to China Daily