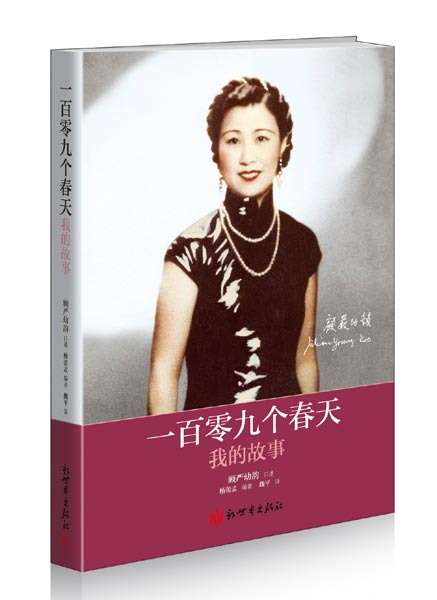 Juliana Young Koo's autobiography, One Hundred and Nine Springs: My Story. [Photo provided to China Daily]
Juliana Young Koo was born in 1905 in Tianjin, China, and now lives in New York City. The 110-year-old woman's autobiography, which was recently published in China, is based on stories about her life that she started to tell one of her daughters a few years ago. It is titled One Hundred and Nine Springs: My Story.
Koo was among the first female students to attend Shanghai-based Fudan University, which was established in her birth year. She later spent 10 years working at the United Nations in New York.
Her late husband, Wellington Koo, was a prominent diplomat and was one of China's representatives to the 1919 Paris Peace Conference and a judge on the International Court of Justice in The Hague from 1957 to 1967. Her first husband was Clarence Kuangson Young, who was also a Chinese diplomat. He was killed while serving in Manila during World War II.
The autobiography in Chinese gives a vivid account of the ups and downs in her life and offers glimpses of how China and the wider world has changed throughout the last century. It also discusses the lives of overseas Chinese. Many photos in the book have never been seen by the Chinese public.
Wang Junxiao, president of New World Press, an affiliate of China Foreign Languages Publishing Administration, says the autobiography is quite outstanding for the time span it covers.