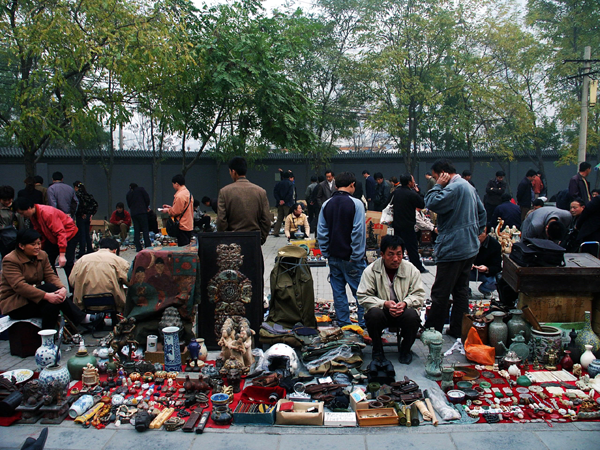 China's booming antique market has given birth to a gigantic army of collectors and traders among its own citizens. [Photo by Fan Jiashan/China Daily]
Xu Qing says he can't remember exactly how many treasures have passed through his hands. The 56-year-old has worked at the State-owned Henan Provincial Antique Store for 34 years and has witnessed many major changes in China's policy concerning its innumerable antiques.
"I watched as an entire room of ancient scrolls were taken off the walls and sold to people. I watched as a whole batch of antique bronze sitting Buddhas' were sold not according to their individual value but to their total weight," says Xu. "Today, the best of these things turn up - if they turn up at all - at auctions in and outside of the country and are hotly sought after by avid collectors who have no idea how long they will have to wait if they miss the opportunity to buy."
Thirty years ago, State-owned antique shops were one of the few places in China where foreign currencies were accepted. "For foreigners, or people from Hong Kong or Taiwan, these stores were a window through which they could take a fascinating peek into China. For us, it was a way to earn US dollars, at a time when there were not many ways to do so," Xu says.
Xu says the antique stores, which operate at provincial or municipal levels, are the descendants of the privately-owned antique shops that flourished during the Qing Dynasty (1644-1911), China's last feudal dynasty.
"In the 1950s, after the founding of the People's Republic of China, all private enterprises, antique shops included, were consolidated and incorporated into the state economy," says Xu. "Every major historic city had its own store. And a province like Henan, which has many historic cities and towns, was certainly entitled to have one provincial store of its own. That was really the beginning of our story."