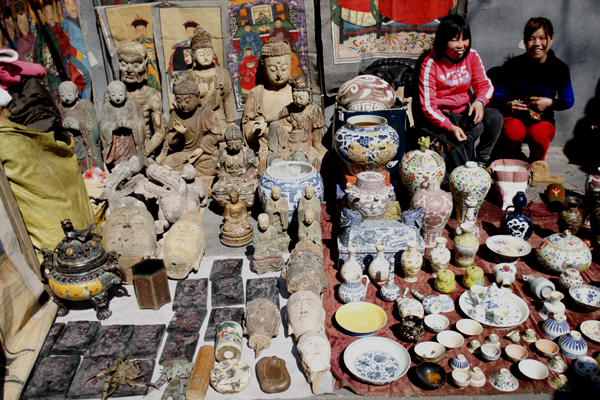 Buddhism related objects are among popular displays at all the antique markets across the country. [Photo by Fan Jiashan/For China Daily]
One issue faced by the antique stores upon their founding was how to replenish their stock. "We offered to pay for 'old' stuff from average Chinese families, and people soon started to come," says Xu. He says people were willing to sell because they were living in poverty and had scant knowledge of antiques. "For those who were living from hand to mouth, saving a piece of antique jade for posterity is really not a major concern."
Things took a dramatic downturn with the commencement of the "cultural revolution" (1966-76), a decade-long ideology-centered socio-political movement that shook China to its core. Today, it is believed this period wreaked havoc on the country's invaluable cultural heritage, most notably, antiques.
In an era when antiques were seen as symbols of a "rotting past" and were taken from the homes of their owners to be destroyed, the stores were a haven for the collective cultural memory of the Chinese, says Li Xuejian, from the Tianjin Municipal Antique Store. "Founded in 1960, our store had already earned its reputation among its peers by the time the "cultural revolution" broke out. Operation was effectively in limbo for the ensuing decade, but that didn't stop our staff from offering what they saw as real treasures their sole chance of survival.
"Mostly in their 50s at the time, these people, who had spent their whole life studying antiques, found it impossible to sit and watch while, say, a whole cart of bronze Buddha sculptures from the Ming Dynasty (1368-1644) were thrown into a factory's melting pot," says the 59-year-old. "A few of them stationed themselves at the gate of a bronze smelting factory in Tianjin. From time to time people would arrive at the gate with loads of antique bronze sculptures and wares, all collected forcibly from local families. There, they were dumped on the ground to be reduced to liquid metal."
"These gentlemen from our store would then contact the person in charge, to secretly purchase some pieces, at the same price as the raw material. In this way over the years, they saved a total of 20,000 pieces of bronze Buddha," Li says. "Today, all those men have passed away, but what they rescued, at the risk of their own lives, is still with us..."
According to Li, the decade-long confiscation of antiques from average Chinese families, often carried out by the so-called "Red Guards" mobs of youngsters, resulted in many antiques being thrown together, lying in warehouses and untended.
"There were indeed numerous cases of antique porcelain being smashed, but luckily, not everything surrendered to the Red Guards was destroyed. Most of the time, they simply made a registration of what they got, before putting the stuff in storage," Li said. "In the early 1970s, after all the havoc had come to an end, the government decided that provincial and municipal antique stores were to take charge of the stores of goods."