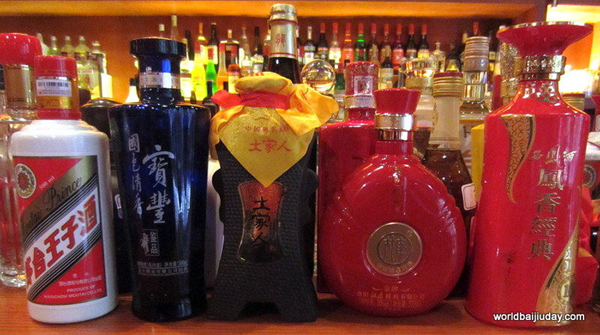 Assorted baijius. Photo provided to China Daily
Beijing wine and nightlife blogger Jim Boyce announced this week that bars and restaurants in several countries will participate in World Baijiu Day, a series of events designed to make consumers outside of China familiar with the nation's popular white spirit.
The world's most-consumed alcoholic beverage is little-known abroad, Boyce says, but awareness is growing.
"Large global drinks companies have invested in major brands, distilleries are starting up overseas, including in New Zealand and the United States, and a growing number of bartenders are experimenting with baijiu," he adds. "The past year has seen the opening of baijiu bars in Beijing and New York, and a Baijiu Cocktail Week that involved nine venues in London during Chinese New Year."
2014 also saw the publication of Baijiu: The Essential Guide to Chinese Spirits, by US author Derek Sandhouse, began as a blog that followed his experiment "to drink 300 shots of the stuff".
Though Chinese traditionally drink baijiu in ganbei-style shots, World Baijiu Day will also feature baijiu-inspired cocktails, infusions, liqueurs and beers. So far, Boyce says, venues in seven cities are confirmed, including three in Beijing:
• Golden Monkey, a cocktail bar and restaurant in Melbourne, Australia, with many China-inspired dishes and drinks.
• The Hide, a London bar where Paul Mathew, one of the co-owners, experimented widely with baijiu cocktails during a four-year stint in China.
• Lumos, the only cocktail operation in New York that is focused solely on baijiu.
• Peking Tavern, a bar and restaurant in Los Angeles that specializes in street food and drinks inspired by northern China.
• Capital Spirits, a baijiu-focused bar in Beijing that offers flights of different baijiu styles and brands.
• Jing-A Taproom, a craft brewery and pub in Beijing that plans to use qu, the fermentation agent for baijiu, to make a specialty beer.
• The Schoolhouse at Mutianyu, a restaurant and lodge project in Beijing's suburbs near the base of the Great Wall, that produces baijiu-based liqueurs.
• Mott 36, which recently won media accolades as the top baijiu spot in Hong Kong.
• R&D Cocktail Lab, a Taipei venue that is dedicated to alcohol experimentation and will feature kaoliang, the baijiu most associated with Taiwan.
More details, and participating sites as they are added, can be found at www.worldbaijiuday.com.
Related:
Azerbaijan was all about fusion before it was cool