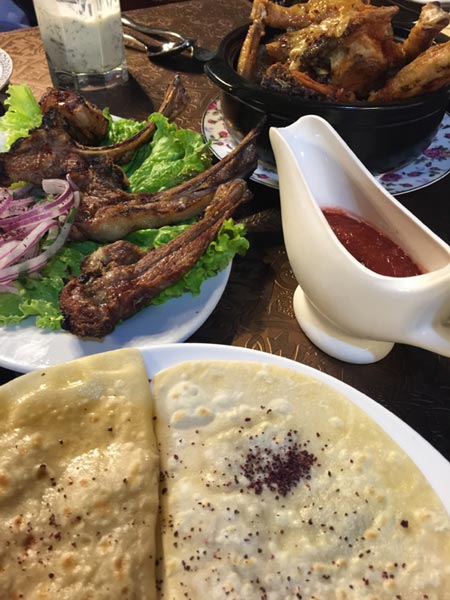 Azeri-style lamb chops and stuffed flatbread are flavored with the aromatic spice sumac. [Photo by Mike Peters/China Daily]
President Xi Jinping's swing through Central Asia over the weekend, touting the legacy of the ancient Silk Road, inspired many news stories. The thought of China's leader being hosted in that region also made some of us hungry.
We sated those hunger pangs with a trip to Beijing's Russian district, where Kavkaz restaurant caters to the food cravings of the entire region. There we found fluffy Uzbek pilaf and Georgian chicken with a rich, creamy garlic sauce. There were Turkish-style kebabs and a savory version of piti, the lamb soup commonly served in a small clay urn.
In the forefront were specialties from Azerbaijan, a country whose cuisine was all about fusion long before Michelin-starred chefs began to blend culinary traditions in a quest to be chic. Kavkaz takes its name and cuisine from the Caucasus region that includes southern Russia, Azerbaijan and Georgia.
"I missed my homeland food so much that I started this restaurant. Azerbaijanis who miss home come here to eat," restaurant owner Jafarou Nemat told China Daily in a previous interview.
Our dinner this week started with Azeri-style lamb chops, a bit on the salty side but redolent with other seasonings as well. The meat was served with slices of fresh purple onion dusted with sumac, a rich, bitter spice much loved across the ancient Persian diaspora that has an unexpected aura of lemon. Sumac was also sprinkled on our order of kutab, stuffed flatbread filled with ground lamb and greens, folded in half and then pan-fried. In other restaurants and Azeri food recipes, kutab can be stuffed with winter squash or a mixture of cheese and walnuts-and even with duck foie gras and a garnish of ruby-like pomegranate seeds.
Plov, or pilaf, is a rice dish that is ubiquitous in Azerbaijan, with more than 40 different recipes. One of the simplest is served at Kavkaz with stewed beef and chestnuts. The rice has a dual texture: a fluffy saffron-infused mound is topped with a disk of paella-like rice that's been baked or fried crisp on the bottom of a pan.
Although our tabletop was soon covered with meats and starches, we couldn't resist the plump soup dumplings, shaped with a top-knot you could use as a handle for eating. That sounds Neanderthal, a bit like dinner with the cartoon Flintstones. But it's more practical than using a fork or chopsticks, because grabbing these steamed envelopes with your fingers makes it easier to avoid losing the soup inside.
A final addition to our carnivorous spread was the Georgian-style chicken, served with a light coating of creamy garlicky sauce thicker than gravy that tasted as good as it smelled.
Laura Kelley, author of the Silk Road Gourmet, says Azeri food is among her favorite cuisines along the old trading routes.
"There is interplay of so many different traditions evident in the flavors," she says. "The most obvious influence is found from Persian food in a nearly full complement of the main western Asian ingredients: saffron, sumac, fenugreek, cumin, marigold-and sour plums, sour grapes, sour cherries and pomegranates." There are plenty of European and Indian subcontinental ingredients, too.
"The unique combinations of these ingredients ... provide what I like to call taste revelations," she says. Baked Fish with Sour Cherries, Hens with Dill and Pomegranates, Lamb with Quinces and Capers and Cinnamon Potatoes with Pine Nuts are some Azeri dishes.
She finishes the list with a short question: "Hungry yet?"
If so, stop by Kavkaz anytime. Unlike most eateries in the area, it's open 24 hours.
If you go
Kavkaz
Opened daily 24 hours 39 Shenlu Jie, Building No 1, Chaoyang district, Beijing.
010-8569-6448.
About this series
China Daily is featuring different cuisines from countries along the Silk Road every Thursday.