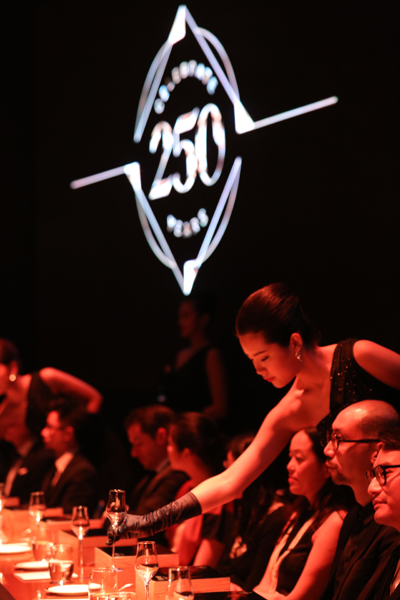 Banquet at Hennessy's 250th anniversary. Photo provided to China Daily
Although the cognac market in China remains weak due to the ongoing austerity campaign, LVMH-owned Hennessy chose China's southern city Guangzhou as the first stop of a global tour to celebrate its 250th anniversary, hoping to tap into the country's expanding middle class.
Bernard Peillon, chairman and CEO of Hennessy, told China Daily that he believes the Chinese market is transforming and entering a stage of maturity similar to what the US experienced years ago.
The dynamic sales of Hennessy's VSOP and Classivm-a brand designed for Chinese market only four years ago to cater to young people-gives him confidence of a "bullish" future.
"I'm quite confident our sales will grow this year. The question mark is which part of Hennessy is growing faster," Peillon said.
Since the government launched its anti-corruption crackdown three years ago, sales of cognac brands have mired in slowdown or even decline, including Remy Martin and Martell, which used to benefit from their prestigious image.
Hennessy has also been affected by the crackdown. But their portfolio of products, especially VSOP and Classivm, makes the company optimistic about its future in the Chinese market.
Peillon said the average age of their cognac drinkers is younger than it was 15 years ago, and today many people in their 30s enjoy going out to trendy bars. Their market is becoming bigger due to the expansion of the middle class, many of whom are well educated and well paid.
All brands will benefit from the expansion of the global middle class, but the broader base of Chinese drinkers offers a very promising market, Peillon added.
"China is the No 1 market across our global business in value," said Peillon, who refuses to provide concrete figures.