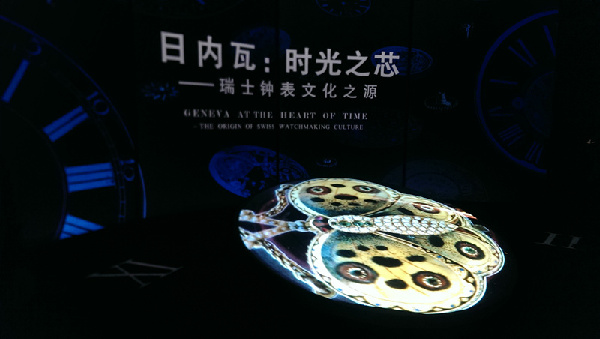 A look at the entrance of the exhibition hall.[Photo/He Keyao/chinadaily.com.cn]
Walking into the exhibition hall, you are immediately surrounded by ticking sounds and a huge light-reflected clock comes into view. You are instantly immersed in a fascinating world of exquisite timepieces.
It is the unmistakable Swiss watch exhibition,held in the Capital Museum, Beijing, for the first time. Named "Geneva at the Heart of Time—The Origin of Swiss Watchmaking Culture ", the exhibition has been well-received by the public.
Three exquisitely-designed sections make up the exhibition: the history of watchmaking, horology in Switzerland, and the artistry of the watch. Around 350 items are on display, with multimedia presentations accompanying the exhibits, including video, sound and light effects.
One of the highlights is the live demonstration of five Swiss watch-making masters performing their craft. Special booths are set up in the museum where the watchmakers showcase their techniques and interact with the audiences.
"The content of this exhibition is so comprehensive. It covers so many aspects, such as art, technology and history," said Zhao Yazhuo, one of the exhibition designers, "it gives an overall picture of Swiss watch development, its culture and its artistic skills."
"We tried to add 'cultural flavor'to the exhibition, so it isn't just an exhibition of objects," said Li He, another designer. She stressed the importance of the environment created in the exhibition hall, the logic of its layout and its cultural atmosphere.