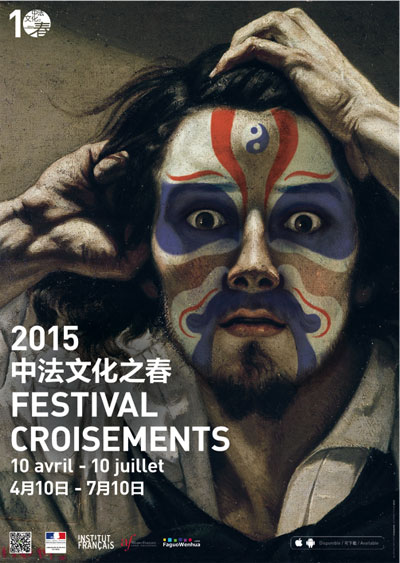 Photo provided to chinadaily.com.cn.
The Croisements festival is celebrating its 10th birthday this year. Coordinated by the French Embassy in China, the Croisements festival of culture has attracted more than 8 million visitors since its creation in 2006 following the end of the Années Croisées France-China festival.
The 10th annual Croisements Festival will commence at the Xin Dong Cheng Space for Contemporary Art at the 798 Art District in Beijing on April 10 and a press conference has already been held to launch the event on April 7.
From April 10 to July 10, the Croisements Festival is celebrating its 10th birthday with more than 100 programs and 400 events organized over three months in more than 30 cities throughout China.
Croisements is a festival of exceptional diversity from film retrospectives and exhibitions to concerts and performances, and the festival shows off the best of Franco-Chinese cultural relations.
This year, to celebrate its tenth anniversary, the festival will feature around 10 disciplines: visual art; architecture and design; new media; classical and contemporary music; jazz and modern music; dance; theatre, contemporary circus and street art; cinema; literature and young audiences.
Over the years, Croisements has gradually become the major cultural spring event for festival-goers in Beijing, Shanghai, Guangzhou, Wuhan, Chengdu, Shenyang, but also Changchun, Changsha, Chongqing, Dali, Dalian, Dongguan, Guiyang, Hangzhou, Hefei, Jinan, Kunming, Nanjing, Nanning, Ningbo, Qingdao, Shenzhen, Shunde (Daliang), Suzhou, Tianjin, Urumqi, Wuxi, Xiamen, Xinxiang, Xi'an and Yiwu.
This year, more than 30 cities will see festival events, supported by local institutions and cultural centers. It is no longer a festival for lovers of art and French culture, but a popular festival showcasing French and Chinese cultures, one that fits into the daily life of urban dwellers in the biggest Chinese cities from April to July.
The Croisements Festival will take the public on a voyage of discovery to encounter new, surprising, popular and prestigious projects.
To celebrate the festival's first decade with an exceptional program, Croisements is very pleased to be able to count on the support of ten figures from the Chinese cultural world, who will share their three favorite events in the festival with the public.
These include the pianist Lang Lang (classical and contemporary music), film director Feng Xiaogang (cinema), theatre director Meng Jinghui (theatre and contemporary circus), music professional Shen Lihui (jazz and music of today), the painter Zeng Fanzhi (visual arts), choreographer Jin Xing (dance), stylist and designer Jiang Qiong Er (architecture and design), writer Jiang Fangzhou (literature), videographer Zhang Peili (new media) and magician Yif (young audience).
You can find a full program of the Croisements festival online at www.croisements.faguowenhua.com, and on WeChat (ID: faguowenhua).