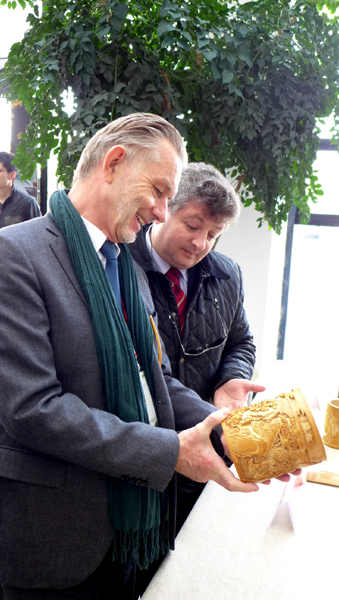 Guests visit the bamboo museum in Huangshan. [Photo by Gao Bo/chinadaily.com.cn]
As the country with the most bamboo species and a long planting history, China now leads in the world in terms of planting area, variety of bamboo products and export volume, Zhang Yongli, deputy director of State Forestry Administration said.
Zhang made his remarks at the opening ceremony of the eighth China Bamboo Cultural Festival Tuesday in Huangshan city, Anhui province.
The bamboo forest area in the country reached six million hectares, according to the data of the eighth national forestry survey early this year, 11 percent more than the previous survey.
The national production value of the bamboo industry was 167 billion yuan in 2013, 36 percent more than in 2012.
The processing skill and the innovation capability in China's bamboo industry rank in the forefront worldwide, spurring booming development in the main production areas, Zhang said.
China has taken the development of the bamboo industry very seriously, and there are now thriving furniture manufacturers, bamboo shoot farmers and activated charcoal producers, said Dr. Hans Friederich, Director General of the International Network of Bamboo and Rattan (INBAR). It's an intergovernmental organization dedicated to improving the livelihoods of the poor producers and users of bamboo and rattan, within the context of a sustainable natural environment.
Bamboo panels, flooring and building materials are exported from China to places around the world and amounted to nearly $1.9 billion in 2012. The domestic market in China amounted to $19.5 billion, Hans said.
Ambassadors from Nepal, Ecuador, Surinam, Tonga and Vietnam to China, member states of the INBAR, also attended the festival.
In Surinam, mineral exploration damaged the environment. While bamboo can recover a forest quickly, it can increase locals' income if they can learn production skills from China, Lloyd Lucien Pinas, Surinam ambassador to China, said, "If so, the industry can be rapidly developed with lower input and high profit."