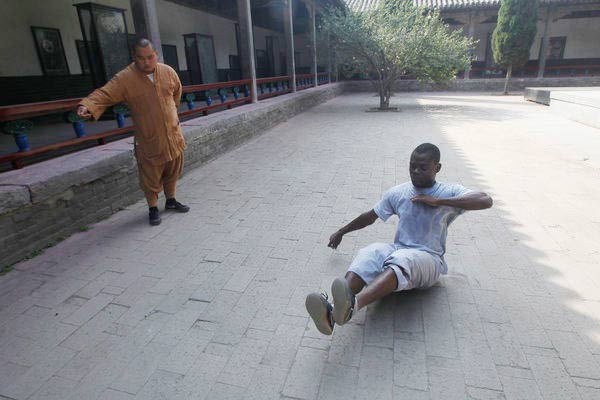 An overseas fan practices Shaolin kung fu at Shaolin Temple in Dengfeng, Henan province, Sept 7, 2013. [Photo/CFP]
A monk in China's Shaolin Temple on Friday said the temple never taught kungfu for money, and the American who made the accusation had confused the temple with nearby kungfu schools.
Matthew Polly said in his memoir "American Shaolin" that the Shaolin Temple's abbot Shi Yongxin accepted him as his first foreign student after taking 1,111 yuan ($181) as a gift. He claims to have paid an annual tuition fee of $1,300 to learn kungfu at the Shaolin Temple Martial Arts Center and suggested that some monks in the temple are gay.
The book stirred wide controversy after excerpts of the Chinese version were uploaded online earlier this month.
Shi Yanchong, a monk with the Shaolin Intangible Asset Management Center, said, judging from his book, Polly could not tell the difference between the Shaolin Temple and nearby commercial martial arts schools, adding the so-called "Shaolin monks" are simply laymen who cheat people out of their money.
"He (Polly) is a foreigner who loves Chinese kungfu, but he was probably misled," Shi Yanchong said, adding that monks never work in martial art schools.
"No martial arts halls or centers with the name 'Shaolin Temple' have any connection with the Songshan Shaolin Temple. Songshan Shaolin Temple has never recruited any students, and improper conduct by martial art schools has nothing to do with the temple," said the temple in a strongly worded statement.
Located on Songshan Mountain in Dengfeng city in Central China's Henan province, the 1,500-year-old temple is regarded as the cradle of Chinese kungfu.