Now, Let's have a look at the construction, patterns, furnishings and important cultural relics from the Qianlong Garden in Forbidden City. We can catch a glimpse of Emperor Qianlong's pursuit of the elegant life and his spiritual world.
2.Emperor Qianlong's stationery case
Stationery accessories have a long history in China, and can be used as utensils in painting and calligraphy, and also for enjoyment during leisure time by members of the literati. Emperor Qianlong attached great importance to stationery accessories which helped carry on the nation's customs and culture.
Most children nowadays have a writing case with their school supplies including pens, erasers, rulers, and a penknife. In ancient times, there were specific tools, like bishan (pen mountain) and bichuang (pen bed) to put down the writing brush, mochuang (ink rest) to fill in the ink, brush pot, shuicheng to hold water, and bixi (writing-brush washer) and ink pads.
What did Emperor Qianlong's stationery case look like?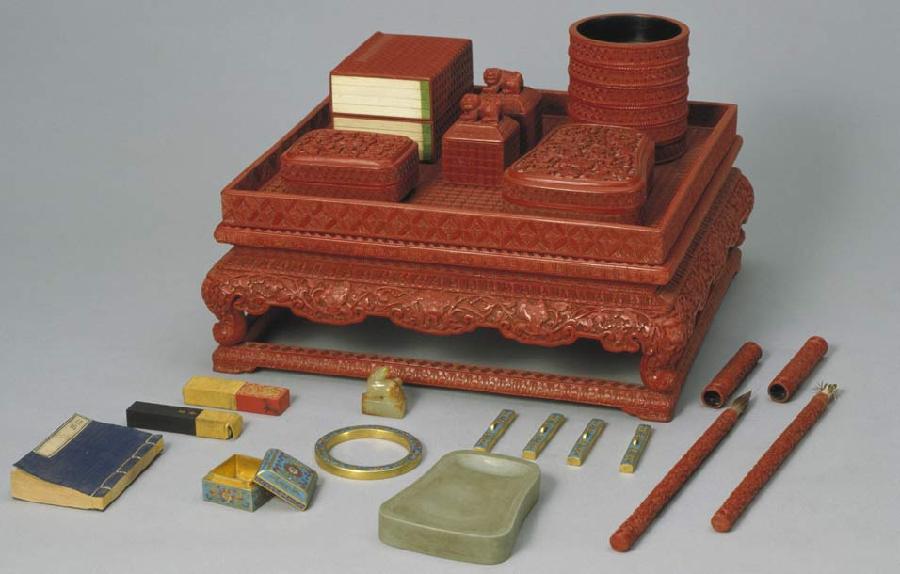 A red carved lacquer stationery case with a lotus-flower scroll design. Length: 31.4 cm, wide: 28cm, height: 28.5 cm. [Photo/Capital Museum]