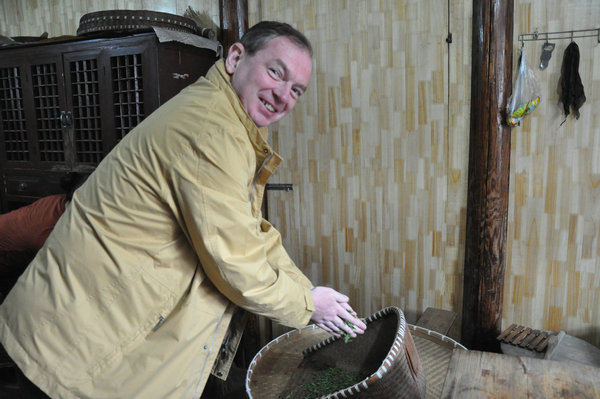 Michael Harrold's work-related trips help him better understand the country, like this trip to Hangzhou to research organic farming.[Photo provided to China Daily]
A British copy editor has come all the way from Leeds to Beijing, with a stint in Pyongyang. Liu Xiangrui reports.
Unlike many Westerners who arrive in Beijing or Shanghai on their first visits, Michael Harrold's first stop in China was the small northeastern city of Dandong.
The 54-year-old British media professional reached the Chinese city bordering the Democratic People's Republic of Korea from Pyongyang in 1992.
Harrold had gone to the DPRK in 1987 as an "English-language adviser" after studying at Leeds University.
As the first Briton to work and live there, his job was to polish English translations of the collected works and speeches by the country's then-president, Kim Il-sung, and his successor, Kim Jong-il.
Harrold made another trip to China in 1994. The Briton, who's originally from Solihull near Birmingham, has since been in Beijing working for Chinese media.
"It's made my life interesting, although obviously it wasn't my plan," he says, talking about spending years in Asia.
"When I left North Korea, I thought China was sort of on the way home. And I believed China was a sort of good place to acclimatize to the new world again."
He was hired as a copy editor on the international desk of Xinhua News Agency.
"I adapted myself quite rapidly," he says.
He could watch foreign TV channels in Beijing. In the DPRK, his only contact with the outside world was through BBC radio.
His experience of living and working in that country was a frequent topic of discussion between him and his curious Chinese colleagues back then.
In 1995, he moved to China Central Television, his current employer, where he mostly edits features and documentary stories.
Harrold has witnessed the expansion of CCTV over the past years. When he moved there, he was among the very few foreigners working there, and the channel's English news output was mainly recorded bulletins. Now, CCTV provides a 24-hour service, with bureaus across the world.
Having spent many years in China, Harrold says he has been impressed by the fast changes around him.
When he first arrived in China, the Friendship Hotel in northwestern Beijing, where he stayed-and still lives-was pretty much an isolated building without any proper road connectivity.
Today, it is surrounded by big malls and skyscrapers. The place is also connected by the city's underground train system, which he uses for his daily commute.
"Things are changing all the time in China. That's the way your life is here," Harrold says.
After several trips to different cities in China, Harrold has become a big fan of the high-speed train here. It makes "China much smaller".