One might be surprised to see Premier Li Keqiang standing in floodwaters that submerged part of the Yangtze River embankment.
But he actually did so on his impromptu visit to Wuhan, capital of Hubei province, which is notorious for its history of flooding. At the intersection of China's longest river and its tributary Hanjiang River, the rising water covered some parts of embankment, and Li decided to check out the potential danger.
The city suffers deluges almost every year and is seeing this summer the highest water level since 1998, when provinces along the Yangtze were devastated by lengthy downpours.
Apparently, flood control is one of the top priorities for Premier Li who returned to Beijing on Wednesday afternoon from a visit to Anhui, Hunan and Hubei provinces. In two days, he visited eight places in three cities and chaired a two-hour meeting at night.
On Tuesday, the premier visited Wangjiaba, a township with an important flood control facility along the Huaihe River in Fuyang, Anhui, in addition to embankments of the Yangtze River and Dongting Lake in Yueyang, Hunan province. All were done within eight hours. He checked hydrological situation of both rivers and flood retention basins that are meant to divert redundant water if flood occurred.
The premier was scheduled to chair a meeting on flood control on Wednesday morning, but it was rescheduled to Tuesday night after all officials in charge arrived in Yueyang from provinces such as Anhui, Henan, Jiangsu, Zhejiang and Sichuan.
Early on Wednesday morning, the premier rushed to Wuhan as the city had flooded again overnight and traffic was suspended in many places. After that, he met with Peter O'Neill, prime minister of Papua New Guinea - two hours after arriving in the capital.
Of the several journeys I've been on to report on Premier Li's inspection tours, this was the fastest-paced one because he saw as many flooded areas as he could under such a tight agenda.
Contact the writer at huyongqi@chinadaily.com.cn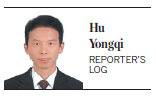 (China Daily 07/07/2016 page3)