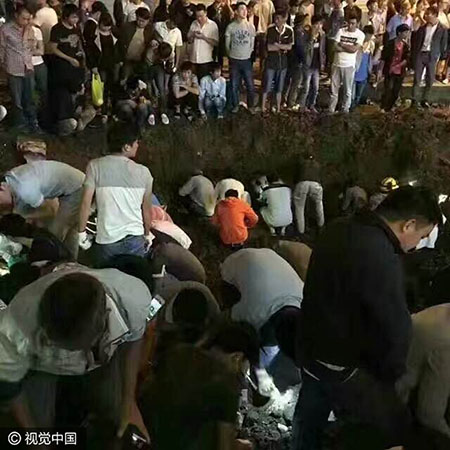 People search for jades in an old part of Tengchong in Southwest China's Yunnan province. [Photo/VCG]
Tengchong in Southwest China's Yunnan province is known for its jade trade and processing industry. This time the city caught people's attention again due to jadeite, but in a quite different way.
People recently rushed to dig for jade in a street of an old part of the city undergoing reconstruction, which used to host many jewelry stores and workshops, according to Beijing Youth Daily.
It is reported that many jades had to be buried as foundations for constructions of roads and houses years ago in the area because the jewelry processing technique was not good as today.
So when the local government recently made an announcement to rebuild the older town, many saw it as an opportunity to get the jade out of the ground again.
A man surnamed Li told Beijing Youth Daily that he took a hoe to the area on Sunday evening to join the big "treasure hunt" team.
"There were people all over the place looking for jadeite and some of them even had the whole family out on the scene," he said.
There was even a self-founded small jade-trading market in the street where people were selling to others what they had found.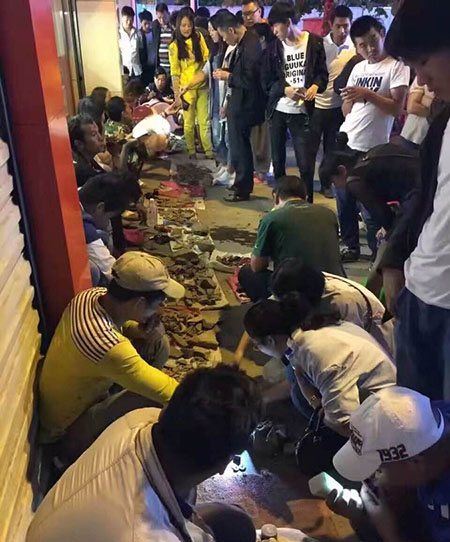 Jades are dug out and offered for sale in Tengchong. [Photo/VCG]
Luckily, Li finally scooped out over 20 small jades in two hours and he sold two pieces for 1,200 yuan ($180).
But not everyone was as lucky as Li. Another local woman surnamed Yu said the jades she dug out were too poor to be sold.
Du Maosheng, chairman of the Tengchong Jewelry and Jade Association, told Beijing Youth Daily that the majority of the jadeites buried under the ground were actually waste materials left in processing and it's impossible to expect some big treasure there.
There were even speculators who used the chance to bury jades before digging them out and offering them for sale.
The local government also issued a notice, warning that the "treasure hunt" violates the safety regulations and poses security threats.
Some deliberately hyped up the so-called buried jewelry in the area for their own interests and people should not believe in making great fortune overnight.