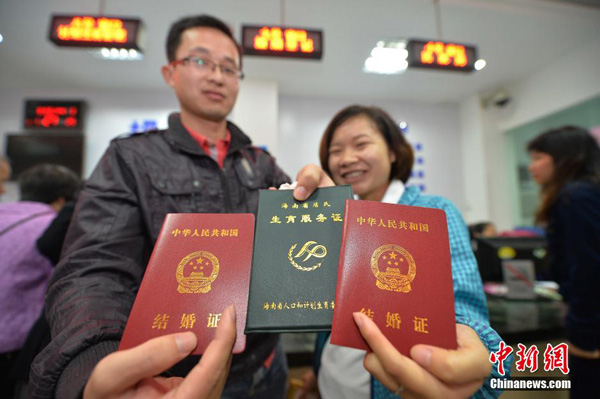 A couple holding Marriage Certificates (red) and Childbirth Certificate (green). [Photo/Chinanews.com]
Good news this month for couples seeking reproductive assistance in China. The Chinese National Health and Family Planning Commission announced a plan on Tuesday to exempt couples who seek assistive reproductive service from obtaining a Childbirth Certificate.
The reform states that, when a couple seeks reproductive assistance in a medical institution, all they need to provide are their IDs, their Marriage Certificates, and a written promise to conform to the family planning policies. Such assistive technologies include artificial insemination, test tube baby technique, etc. Nearly a million pair of couple who suffer infertility would benefit from the simplified procedure in China.
Previously, according to a 2003 regulation decreed by the then Ministry of Health, those seeking artificially assisted insemination were required to provide a whole array of documents. This included documented proof that a couple's birth was in line with national population and family planning laws & regulations.