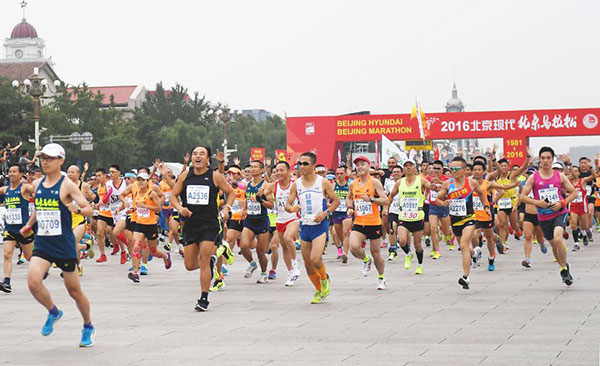 Participants join the Beijing Marathon in Beijing, China, September 17, 2016. [Photo/Xinhua]
BEIJING - Ethiopian runners dominated the 2016 Beijing Marathon as they swept the medals in the men's race and the top two prizes in the women's.
Twenty-five-year-old Gebre Mekuant Ayenew clocked a winning time of 2 hours 11 minutes 9 seconds. His compatriot Dadi Feyera Gemeda came in second place in 2:11:30, followed by another Ethiopian Bekele Mesfin Teshome who timed at 2:11:56.
In women's competition, Ethiopian Biru Meseret Mengistu bagged home the title in 2:25:56, the best result for women in recent 10 years. Tola Melkam Gizaw from Ethiopia and Jo Un Ok from DPRK won the second and third place respectively.
The 2016 Beijing Marathon, which entered its 36th edition this year, received 66,576 applications but only 30,000 runners earned a chance to stand in the runway.
The Beijing Marathon is a Gold Label Road Race certified by the International Association of Athletics Federations (IAAF) and recorded by the Association of International Marathons and Road Races (AIMS).
The best record for men's competition is 2:07:16, created by Ethiopian Tadese Tola Woldegeberel in 2013. China's Sun Yingjie set the women's record at 2:19:39 in 2003.