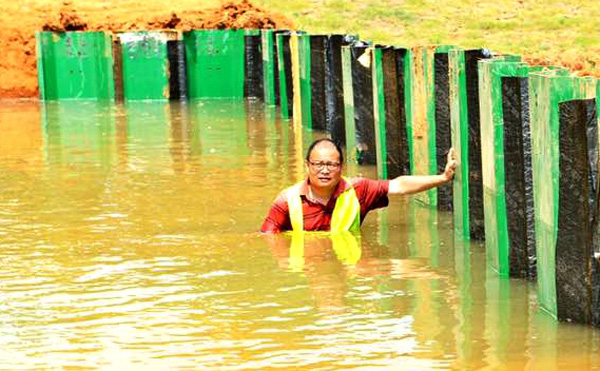 He Lijun stands in water during a test in Wuhan of the flood barrier shield he invented. [Provided To China Daily]
Although the owner of the country's largest piano museum devotes most of his energy to his piano and art museums, He Lijun uses his expertise in geology to fight flooding.
With the help of engineers, he developed a flood barrier shield that has the potential to aid future flood prevention.
"I was inspired by the German 'flood fighting masterpiece', " he said. "I developed my version in a month."
During flooding in China, an online picture showing a wall of German flood barrier shields blocking floodwater intrigued Chinese netizens, who labeled it a "flood fighting masterpiece".
It was, in fact, the Machlanddamm in Austria.
"It can only be built on solid surfaces, and its material, aluminum alloy, is very costly," He said, adding that despite its effectiveness in Austria, a similar barrier could not be used in China.
Nevertheless, he learned from the construction.
"We use normal steel boards, so the cost is lower," he said. "This material can be set either on firm, concrete ground or soft, dirt ground."
His new "masterpiece" recently passed a test in which it withstood 1.85-meter-deep "floodwater". It is currently being tried at a lake in Heilongjiang province.
"This may prove to be a great help in blocking a dike breach," Deng Shuliang, deputy chief-of-staff of the Armed Police Force, who specializes in flooding, said in an interview with the Chutian Metropolis Daily.
"It's easy to set up and it has advantages that traditional sandbags don't possess," Deng said.
This year saw flooding from the Yangtze River. Water levels in Wuhan reached the fifth-highest ever recorded.
"Restoring pianos is a kind of creation, so is developing the 'masterpiece', " he said. "It's the process of creation that keeps me going."
Liang Shuang contributed to this story.