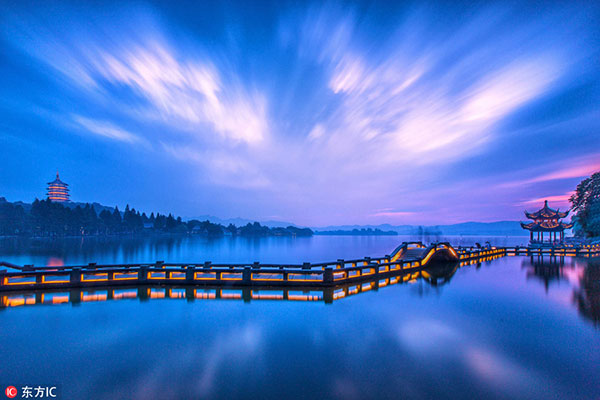 View of one of the Ten Scenes of West Lake, Leifeng Pagoda in the Sunset, at the West Lake in Hangzhou city, East China's Zhejiang province, June 22, 2016.[Photo/IC]

The G20 Summit evening gala on Sunday has not only boosted the host city's image, but also spurred Hangzhou's tourism, thepaper.cn reported on Wednesday.
Bookings with travel agencies to visit Hangzhou increased 110 percent on September 5 and 6, compared to the same time last year, according to lvmama.com, one of China's top online tourism service websites.
It seems some can't wait to view the beautiful G20 host city with their own eyes, with about 40 percent of the orders booked for this weekend, while the rest are for the upcoming three-day Mid-Autumn Festival (September 15-17) .
Data from Chinese short-term rental platform mayi.com has also shown the rental prices in Hangzhou have increased by as much as five times the price at the same time last year, according to deastmoney.com, a financial data website.
Xiao Lin, from East China's Jiangxi province, told thepaper.cn that he used to "feel numb" when viewing the sceneries of Hangzhou as he has grown up in South China, but he booked the ticket to Hangzhou during the Mid-Autumn Festival right away after watching the G20 gala.
The 45-minute visual extravaganza, Most Memorable Is Hangzhou, staged with the majestic West Lake as its background, took place on the surface of the water, combining music, dance, and light effects all against a natural backdrop.
Xiao Lin is not alone making travel plans to Hangzhou. "The travel orders on Hangzhou has skyrocketed after the G20, making the eastern city become one of the two most popular destinations in the country besides Southwest China's Yunnan province," said Xu Xiaolei, spokesman for the China Youth Travel Service.
To meet the increasing demand, China Railway has taken provisional measures, including opening new trains and adding carriages.
The G20 Summit has boosted Hangzhou's outbound tourism as well. The report released on August 30 by Ctrip, one of China's leading online travel service providers, said more than 2 million of the 7 million Hangzhou residents had made plans to travel during the seven-day holiday they've been given for the G20 Summit in the city.
The number of travelers departing from Hangzhou has surpassed that of last year's National Day Holiday, which is one of the busiest periods for China's tourism industry.