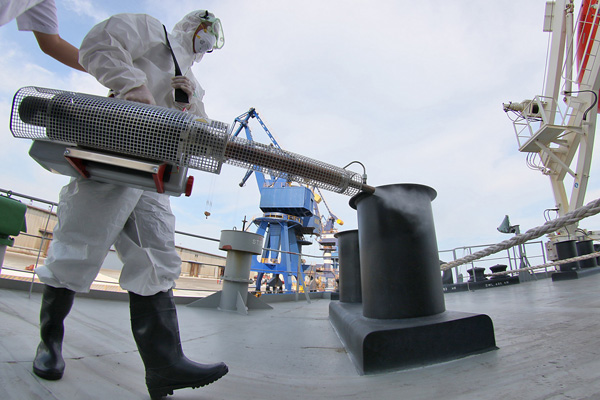 A quarantine officer sprays pesticide to kill mosquitoes on a cargo ship that arrived in Yantai, Shangdong province, in August, from Brazil, where the Zika virus has been detected. [Photo/Xinhua]
People returning from areas with outbreaks should inform nation's inspection authorities
Authorities and experts warned of the risks of the Zika virus spreading in China and urged precautionary measures, as the number of cases in Southeast Asia increases.
Authorities responsible for entry and exit inspection and quarantine across China are urged to intensify monitoring and cooperation in the prevention and control of the virus, according to a warning released on Wednesday by the General Administration of Quality Supervision, Inspection and Quarantine.
Visitors to countries and regions with a Zika outbreak should take precautionary measures, such as wearing long-sleeve clothes and long pants, and should see doctors quickly if they are bitten by mosquitoes and display symptoms such as fever and rash, it said.
Those who plan to return from such countries should make declarations to the exit-entry inspection and quarantine authorities, it said.
Southeast Asian countries such as Singapore, Indonesia and Thailand, and many South American countries, have reported Zika cases, according to the World Health Organization. More than 2 billion people living in Asia, Africa and the Pacific could be at risk, according to a recent study published in The Lancet.
Tests by the National Public Health Laboratory in Singapore show that the virus that caused the outbreak likely evolved from a strain circulating in Southeast Asia, the WHO's China office said.
The risks for China will depend on importation of the disease, the presence of a suitable host and the country's capacity to detect and respond to its spread, it said.
As the mosquito is the same type that spreads dengue, the most at-risk areas are in the southern part of China, where dengue outbreaks have occurred in the past, it said.
"China has made substantial progress and will be better prepared, compared to a decade ago, to respond should an imported case occur here," it said.
"For instance, China has taken active steps to strengthen its surveillance and lab diagnostic capacity."
Some countries, including China, are researching vaccines, but drugs are still unavailable.
The Zika virus is primarily spread through mosquitoes, and about 20 percent of those infected could display symptoms such as fever, rash or headache. Death may occur in rare cases, according to the National Health and Family Planning Commission.