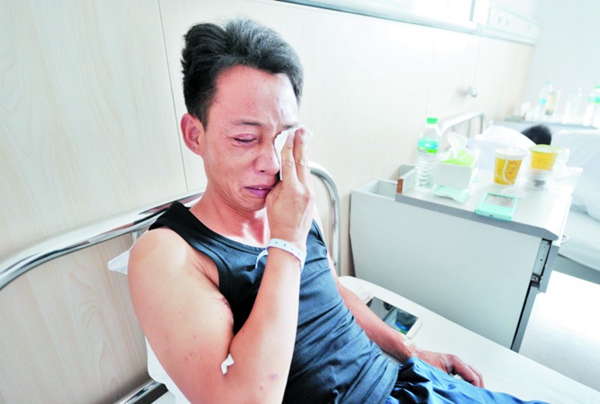 Sun chokes with sobs while recalling his mother in the ward. [Photo/ctdsb.net]
A happy family trip turned into a heartbreaking tragedy on the afternoon of Aug 24.
On the day in question, Sun Ming and his family, including his wife, 10-year-old son and parents, took the bus from Huangshan Scenic Area back to their home in Central China's Wuhan city. The bus over-turned after a collision with a truck that was loaded with lime. Six people died and 25 others were injured in the accident. Sun's eyes were burned by the leaking lime, and his lungs were affected as well. Working through the pain, Sun nevertheless helped to extricate a number of people who were trapped on the bus.
Sun heard a little girl's cry for help and quickly realized that her foot was stuck under a piece of luggage. He moved the suitcase and helped the girl and her mother out of the bus. Sun also rescued his son, whose head was pinned by luggage. He then saved anther mother and young girl. After helping five people, Sun went to help his wife, whose leg was broken. He managed to pull her out of the bus through a window.
Despite his best efforts, several victims of the crash did not survive. After trying to stop one young man's bleeding, Sun pulled the man toward a window so he could breathe fresh air. Unfortunately, the young man passed away after being sent to the hospital.
Sun told a reporter that he was exhausted after rescuing six people. However, Sun's parents were still on the bus. He stayed with them inside the bus until firefighters arrived. Sun's mother, nearly 70, died in his arms after being rescued by a firefighter.
"My mother just looked at me without saying anything before she passed. There were so many people who needed my help in that moment. Some were children, who were easy to carry out. I didn't have time to think, so I just did my best to help as many people as I could. I feel so sorry for my mother!" Sun said tearfully.