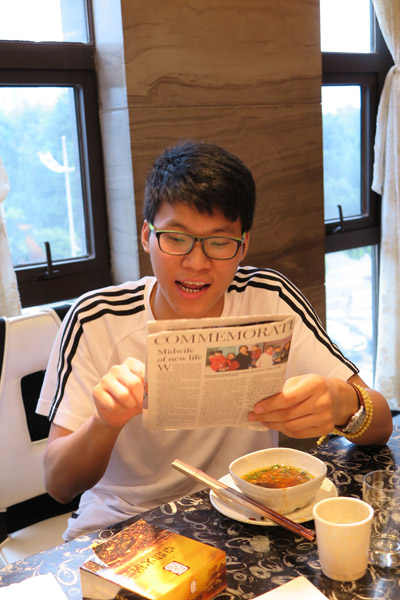 Li Anqiang reads English newspapers to further his understanding of the language. [Photo by Huang Zhiling/ China Daily]
Li Anqiang, a 24-year-old graduate from Sichuan University in Chengdu, Sichuan province, will fly to the United States next month to pursue his master's degree in public management at Rutgers, The State University of New Jersey.
Instead of the typical story of a young man from a rich Chinese family studying in the US, Li's is one which may move people to tears and motivate them to aim high.
Li, whose name means "safe and strong" in Chinese, comes from the mountainous ethnic Qiang village in Xiaoba town, Beichuan county, Sichuan.
He lost his legs in the 8.0-magnitude Wenchuan earthquake on May 12, 2008, which killed 69,226 people and left 17,923 missing. Trapped under rubble with a classmate at Beichuan High School, the then teenage Li moved over to make room.
He was unscathed as a result of his act, but during aftershocks, Li's legs became buried and had to be amputated.
Wang Zhihang, a volunteer in Chengdu who has shown concern for Li, recalled the first time she met him in a hospital in July, 2008.
Standing 1.74 meters tall before the quake, the teen then only reached 87 cm without his legs.
"With gauze covering wounds on his head, he looked profoundly sad and desperate. Nobody knew if he could survive psychologically and nobody believed he would study abroad one day," Wang said.
Li's father and 13-year-old sister didn't see him until eight days after the quake because they had to travel a long distance from the mountains in Beichuan. Without any relative by his side, Li had to sign himself into a hospital, agreeing to have his legs amputated.
After the new school term started in prefabricated classrooms that year, Li returned to his home county and proved to be a top student at Beichuan High School.
He was good at sports before he lost his legs. After the quake, he played basketball in his wheelchair.
Learning of his story, NBA star Kobe Bryant sent him a signed basketball and said he was moved, hailing Li as a "strong boy whose attitude toward fate was amazing".
In the autumn of 2011, Li started studies as an accounting major at Sichuan University.
"At the beginning, roommates would give me a helping hand. As time went by, they took my handicap for granted and I took care of myself instead," Li said.
As it takes time to don artificial legs, amputees often say they hate getting up at night to answer the call of nature.
"I have learned to don the artificial legs quickly, a little slower than putting on shoes, to be exact," Li said.
Upon graduation from Sichuan University last summer, Li, who did not have a job, started preparing for the exams he needed to sit to apply for study in the US.
He hopes he can use the advanced management expertise he gains at Rutgers in his work when he comes back to China.
"I plan to work in a government organization or State-owned firm in China," he said.