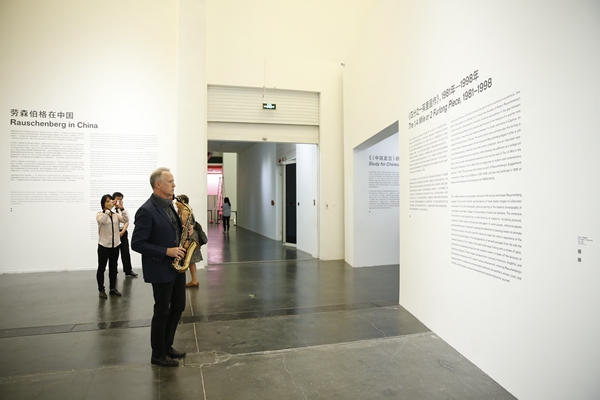 Ted Nash improvises at the UCCA's exhibition hall of Rauschenberg's works "The 1/4 Mile or 2 Furlong Piece". [Photo by Li jing/ Chinadaily.com.cn]
The exhibition "Rauschenberg in China" at Ullens Center for Contemporary Art will culminate in Ted Nash's "Jazz for Rauschenberg" at the weekend.
On Aug 19 and 20, the New York-based jazz composer and saxophonist will present live shows at the gallery's atrium, joined with Beijing-based musicians.
Since Aug 15, Nash has been at the gallery, gazing at Rauschenberg's works "The 1/4 Mile or 2 Furlong Piece", improvising in the Great Hall during morning sessions, and being joined by Beijing-based musicians for workshops and rehearsals in the afternoons.
"I am thrilled for this opportunity to bring together people and a variety of artistic disciplines in this very ambitious project," Nash said. "Because of its expressive and improvisational nature, jazz allows us all an opportunity to get to know ourselves better and to let other people know who we are."
As for what happens inside the museum, he said he is waiting to find out.
As a member of the Lincoln Center Orchestra, he likes to take instruments to MoMA, New York, immersing himself deeply in the works of different artists, creating a melody in accordance with the improvisation principles of the stage.
In 2010, he created his famous piece "Portrait in Seven Shades", a large-scale jazz music composition divided into seven movements, each referring to a visual artist: Chagall, Dali, Matisse, Monet, Picasso, Pollock and Van Gogh.