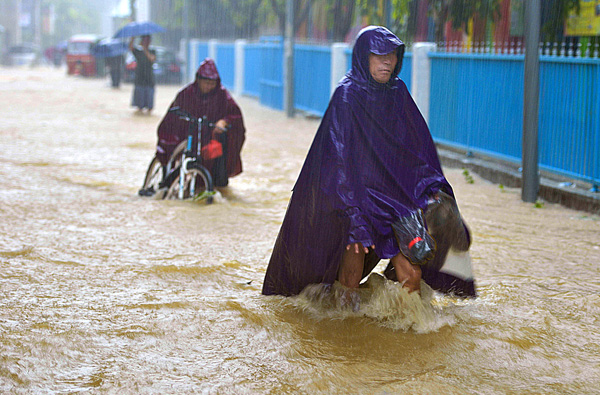 Residents navigate a flooded street in Lingao, Hainan province, after typhoon Dianmu made landfall. [Photo by Fei Yunluo/For China Daily]
Typhoon Dianmu, the eighth typhoon this year, made landfall in Leizhou, Guangdong province, around 3:40 pm on Thursday, battering southern coastal regions with gales and torrential rains.
The typhoon will move west into Beibu Gulf on Thursday night, and grow stronger to affect Guangdong, the Guangxi Zhuang autonomous region and Yunnan province, the National Meteorological Center said. It is forecast to make a second landfall that will batter Vietnam on Friday.
Hainan province has been hit by downpours since Monday, due to the influence of the approaching tropical storm, and stronger downpours since Wednesday, the Central Meteorological Observatory said on Friday.
For example, Lingao, a county in the northwest part of the island, saw more rainfall on Wednesday and Thursday than Beijing receives in a year.
Xu Huanwu, a bus driver in Hainan's capital, Haikou, frowned at the lingering downpours, saying he had to detour to avoid flooded streets, prolonging the one-hour route to three hours on Thursday morning.
"For the safety of our passengers, we had to make detours and lower the frequency of our buses," he said, adding that a bus with 40 passengers was trapped by rising waters in the morning.
Jiang Jurong, a Haikou resident, also complained about the downpours. "I spent over two hours driving to the office, but failed. to get there."
Trains, flights and ferries in Hainan were also canceled or delayed on Thursday. Over 40,000 residents in western regions have been evacuated, the provincial government said.
Guangdong, which was affected by a strong typhoon on Aug 2, and issued its first red alert, was engulfed by gales and downpours again on Thursday.
Southern inland regions along the Yangtze River, such as Chongqing, and Hubei, Jiangxi and Anhui provinces, have seen a heat wave persist for over 10 days.
It's the first time since 1951 that Wuhan and Nanchang have seen daily highs above 35 C for 10 days in a row, the center said.
Tian Yuan, 29, a resident of Wuhan resident, was sick for two days due to heatstroke.
"One of my friends in Haikou was also trapped at home due to the typhoon. We feel sorry for each other," Tian said.
The heat is forecast to continue for a number of days in the southern regions, the center said, warning people to prepare better to avoid heatstroke and diseases.