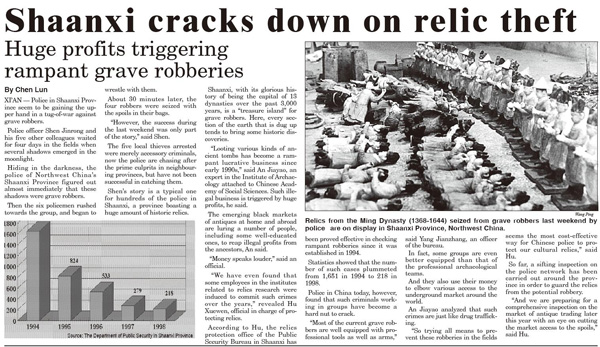 Item from Aug 17, 1999, in China Daily: Relics from the Ming Dynasty (1368-1644), seized from grave robbers last weekend, are on display in Shaanxi province. ... Statistics show that the number of such cases plummeted from 1,651 in 1994 to 218 in 1998. However, police say tomb raiders are becoming increasingly sophisticated.
Tomb raiding has long been a major hurdle in protecting the country's historic and cultural relics.
A spate of recent arrests highlights the seriousness of the problem.
In April, Yao Yuzhong, who was behind China's largest grave robbery since 1949, was sentenced to death.
In all, 225 suspects were caught in the case, and more than 2,000 historical relics were retrieved.
The past two decades have seen more than 200,000 ancient graves plundered, many of which housed the remains of successive generations of emperors, kings and feudal lords, according to archaeologists.
Nationwide, the army of tomb raiders is estimated at 100,000.
In addition to greed, a growing nationwide demand for antiques has also contributed to the phenomenon, experts said.
Efforts to crack down on the crime have not been very successful because most tombs and ancient ruins are situated in the wild or remote areas, making surveillance very difficult.